The full race exhaust comprises of our catback system (Sports Exhaust) as well as a pair of cat replacement sections fitted either with 200 cell sports cats or decat pipes. We have designed and specified our own cats for these cars, 200 cell but with a 72g coating means no engine management lights and maximum power. Decat pipes will require ECU mapping to avoid an EML.
Standard exhausts are surrounded with heat insulation barrier so we get rid of that and then ceramic coat the entire section. Ceramic coating is the best way of dealing with heat, it literally means the heat is kept inside the pipe and exits the car and not heat the engine bay. We use Cerakote exhaust coating which is rated to 1400 degrees and comes in a black smooth finish, it will not fade or flake.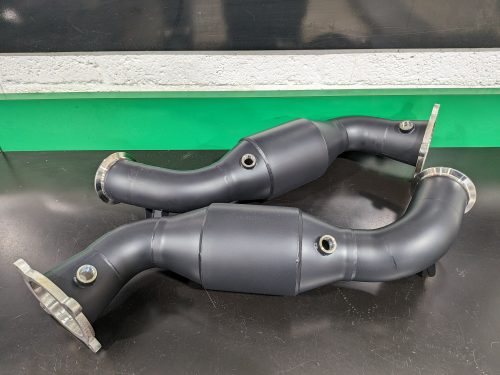 We then mount the system to our catback Sports exhaust where we ditch the silencers, widen the bore of the balance pipe, re-position the balance pipe close to the engine (to deepen the note) and create an effective straight through exhaust which maximises airflow and maximises sound.
The sound is awesome, we are extremely proud of this system, it really is nigh on perfect for the 720s. Quiet on cruising, no boom but a loud bark in gear changes, a scream at higher rpm and track day noise friendly – 100db drive by at 6000rpm at 6m distance, and 99db static at 6500rpm at 1m distance.
Available in stainless steel, titanium or inconel.
We only use mandrel bends so the interior airflow is maximised and all are covered by our lifetime warranty.
The tips are interchangeable so you can select which tip which can be changed by a simple bolt on olive joint, the same as McLaren use so select the tip you'd like and you can change whenever you feel like it.