Comprising of massive 4″ collectors from the turbos, 76g FIA specification cats and 3″ straight through mandrel bent pipes to carbon fibre end trims this is the ultimate Sports series race exhaust. No silencers, no collectors, no baffles – straight through with the result of fantastic sound and full power.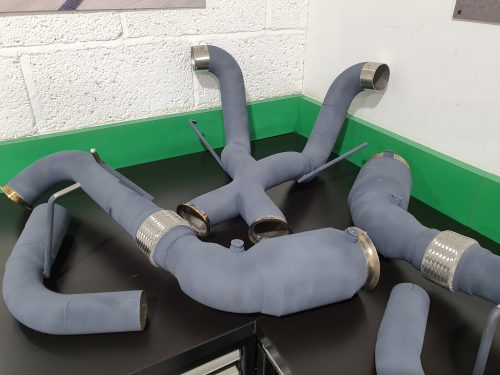 Full custom built to your car (we do not work of jigs so it cannot be supplied mail order) this is a true custom built exhaust hand made at our workshops near Silverstone. Hand built – perfect fit, lifetime warranty (3 years for cats) and still covered by our bumper to bumper Mclaren vehicle warranty.
The entire system is ceramic coated for maximum heat resistance and longevity so we do need your car for a week for measure and build. The system is included in our stage sports series power upgrade.
The use of 76g coating cats means no engine management issues, no O2 spacers, no remaps required, the system is also fully MOT compliant.
And the sound? Well take a listen but in real life its 100x better and is very Ferrari life.
Price includes full fitting obviously.