By Thorney Motorsport – Mon, 09 Aug 2010 08:40

Racing at Ford Fair 2010
We attended the Ford Fair at Silverstone this weekend along with 20,000 other Ford owners! Massive show and great to meet and greet Ford owners to chat about cars and everything else.

Our track-prepped RS in full guise..

Our stand certainly had impact..

Our aim was to inform our Ford presence..
Our new tractor fared well..

On display were three Focus RS models, two customer cars running up rated suspension and power upgrades from Thorney Motorsport as well as our own development Focus RS running all of our performance packages.

TMS Stand

John Thorne was giving passenger rides in the GT..

Inside the stand..

Inside the stand..

Marc and Andy's car got particular attention due in part to Marcs sheer attention to detail on the cars preparation and Andy was sporting the latest TMS power upgrades (literally fitted last week) with an uprated Forge intercooler, Milltek Sport exhaust and TMS remap with Superchips.
The TMS car spent a lot of its time on track giving passenger rides, one lucky winner from Fast Ford magazine got a ride of his life with one of our race drivers throwing the car round the full GP circuit as well as dozens of other people either interested in the car or just out to feel what its like.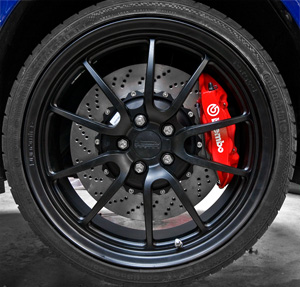 Team Dynamics First Ever Forged Wheel Set, masking the UK's first Focus RS Brembo BBK. The TMS crew were on hand to answer any questions but very deliberately just sitting back and reacting to owners rather than trying to ram our upgrades down any ones throats – the hard sell is not our style, the demo car had our stage 3 power, Milltek exhaust, Forge intercooler, Brembo brakes, Team Dynamics forged wheels, Moton adjustable suspension and our new track cage.
It was particularly interesting to realise just how informed most Ford owners were.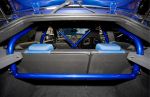 Half Cage / Harness Bar

Removable X-Bar

Half Cage / Recaro Setup
As well as showing off their cars and talking about fuel John got the chance to drive a Ford GT on track. A lucky winner in the Fast Ford magazine competition got thrown round Silverstone by John in this £125,000 supercar, Johns response? "Big ole car but bloody quick in a straight line for a road car!"
Thorney Motorsport on Facebook