By Thorney Motorsport – Thu, 01 Jan 2009 05:00
In 2008, Thorney Motorsport's Astra VXR registered fastest laps at all race events, 5 overall race wins, and placed 3rd in the overall championship.
TMS has been fortunate enough to build an excellent relationship with Vauxhall Motors, as befitting our status as the only tuning firm with Approved Repairer status and we've been fortunate enough to possess an Astra VXR supplied by Vauxhall for the purposes of testing and development. This has allowed us to develop a range of tuning products for the car and enhance these to the level of race preparation.
Building our Astra VXR race car is a very lengthy proccess costing time and money, however we believe the more time and effort that is applied to the car the better quality racing we produce. In order to get the Astra VXR to a winning level of race preparation the following need to be addressed:
Reduce weight. The Astra VXR weighs 1393Kg in standard trim, and can lose a huge amount of weight from its chassis. Depending on race series regulations lose all the peripheral toys and get it down to a bar chassis.
Brakes. Standard brakes are poor and certainly not up to track spec let alone race so replace with AP Racing 6 pot fronts and 4 pot rears with larger grooved disks.
Suspension. Replace for a complete Nitron coil over kit front and rear. The rear suspension towers will need re-inforcement.
Safety. Full 8 point cages are now available from Safety Devices and bolt straight in.
Power. Full Milltek race exhausts (bore dependant on what turbo charger you run), turbo changes, delete the AMM etc etc, the list is endless but there are a lot of things you can ignore as we know they don't work. Our race VXT has the same basic engine (older version with a few changes but its basically the same) and we run over 350bhp from that so power is not an issue.
As you can see below the pictures show our first steps into building a race car by firstly starting with a standard Astra VXR and striping it down to its bare shell.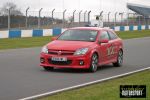 Standard Astra VXR


Astra VXR Stripped


Astra VXR Stripped


Astra VXR Stripped
At Thorney Motorsport we have our own colour scheme of black and green. these colours are printed on everything we produce. Below is the process we go through to give our Astra VXR race car our black and green colour scheme.

Black and Green Colour Scheme


Black and Green Colour Scheme


Black and Green Colour Scheme


Black and Green Colour Scheme
Advanced performance parts to be applied:
Engine upgrades
Brakes
Suspension
Reduced weight
Safety aspects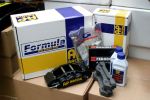 AP Brake Kit


Nitron Front & Rear Suspension


Milltek Sports Exhaust System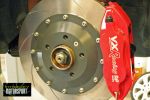 AP Groved Discs
Inside Layout once everything has been Applied:



Astra VXR


Race


Car


Interior


Complete Design:
TMS is proud to offer help and support for any race team preparing their own car complete with potential parts sponsorship deals should they be applicable. We also offer a complete turnkey solution for race preparation and an Astra VXR built to complete race spec with 300bhp+ and fully adjustable race suspension can be achieved from £31,000 (plus VAT).
We are currently involved in several projects for the Astra VXR for the Dunlop SportMax series so welcome any approaches to expand our role in this new series.
For full technical details on the Dunlop SportMaxx series please click to our 'Racing' section of the website.
Thorney Motorsport on Facebook