By John Thorne – Wed, 15 Apr 2015 09:50
Well that was about as many new things we could pack into a weekend as is possible.
First time racing on gravel, first time out for the Wildcat in MSA BCCC spec, first time on All Terrain tyres, first time driving the car under water, first time racing on rally stages and first time packing the truck on the side of a cliff, you name it it was new.
The MSA British Cross Country Championships is the UK's premier, national off road racing series. The Rally Safari is a discipline where the cars run multiple times round the same track which is made up of a combination of traditional rally type stages and more severe off road sections so the cars have to be part rally car and part Dakar spec – not an easy combination. The majority of cars are Land Rover based (as befitting the title sponsor Britpart – they are the leading supplier of Land Rover parts accross the UK) but there are all manner of cars entered, a Ford RS200, a Clio based V8, Milner Evoques as well as two single make classes of Land Rover Freelanders and the Isuzu Pick ups…..and us, a new light weight class for 2015 –  UTV type Sxs vehicles (think quad bike but 2 seats and a proper cage)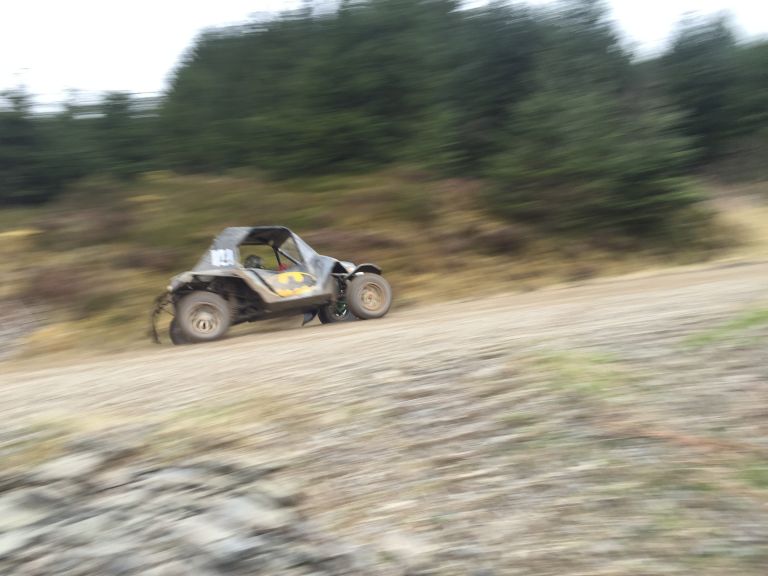 gravel section
At the moment we are the only Arctic Cat Wildcat competing against up to 20 odd Polaris RXR 1000 models but none were competing this weekend so we were on our own in the class for the first race, which suited us really as it was the first race and we were treating it more like shakedown.
The course was a 10 mile stretch of gravel tracks interspersed with several off road sections, 7 runs on Saturday and 5 runs on Sunday – best overall time for all runs determines who wins, you needed to be fast and fast over the all the runs so consistency was key as well as making sure you didnt break the car or crash. Unlike rallying pace notes are expressly banned, you can make notes on the course but no more than that and a co-driver is optional, some do and some dont, for us, considering weight is one of our strengths I drove this round solo but we will try with a co-driver next race to see if having a second set of eyes is worth having or its dead weight.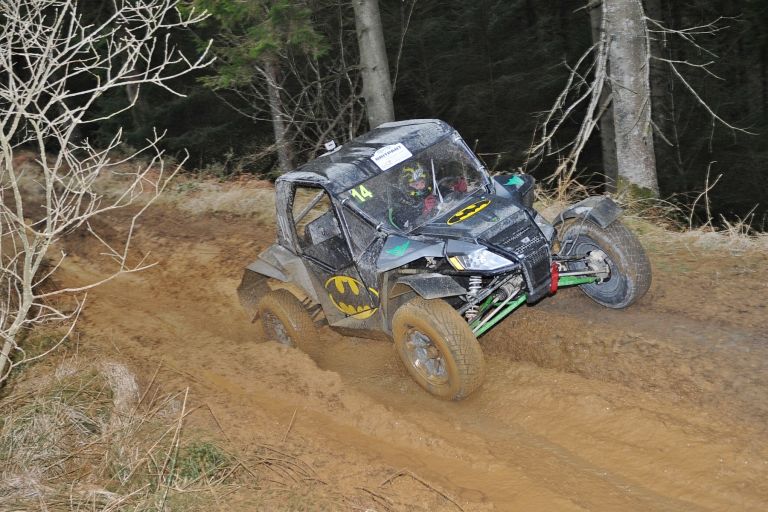 Deep sections were fun
The track was fast, very fast which overall doesnt really suit the Wildcat, we only run 90bhp and with a CVT transmission it meant I was flat to the floor for at least 30% of the track but our light weight (less than 700kg) means on a power to weight basis we can punch above our class so we can compete with some of the heavier much more powerful cars. The open gravel sections were great fun, the fact we are so light means that its a committed drive and the car is thrown into the air at the slightest bump or crest which initially makes you think you're going to die but after a few times you start to look for it.  However it was interesting to watch, one of the Freelander drivers came over as I was waiting for my next run, looked into the cab and stared at my lap for a few seconds before saying "After watching you out there I was just wondering just how big your bollocks really were" – not sure if that was a compliment or not?!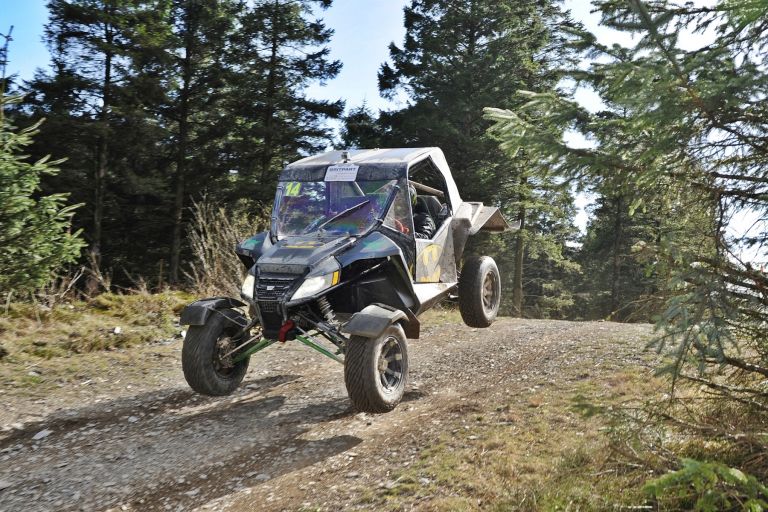 Only one jump, but fun
The really good sections for us were where it got rougher, the BCCC differs from traditional rallying in that some sections really are rough, as in 2-4 foot deep ruts and boulders the size of a small dog – way too rough for a WRC car to make it over, and as a result cars with higher suspension travel can really attack those sections to make up time – so we did. On more than one lap we managed to scatter the spectators on the roughest uphill section as they were used to cars crawling up at 10mph so were standing quite close to the track and when we went up at nearer 40mph it made for some shocked faces, was also great fun.
Another section that was also fun but generally hampered us in time was the water splash, there were a couple of small ones but one deep one that literally engulfed us each time we hit it, water came over the roof into the cab and coated the inside of the windscreen with muddy water meaning that after that I was pretty much driving blind, not really that much fun in a forest but plenty of duck tape later we manged to seal most of it it for subsequent runs.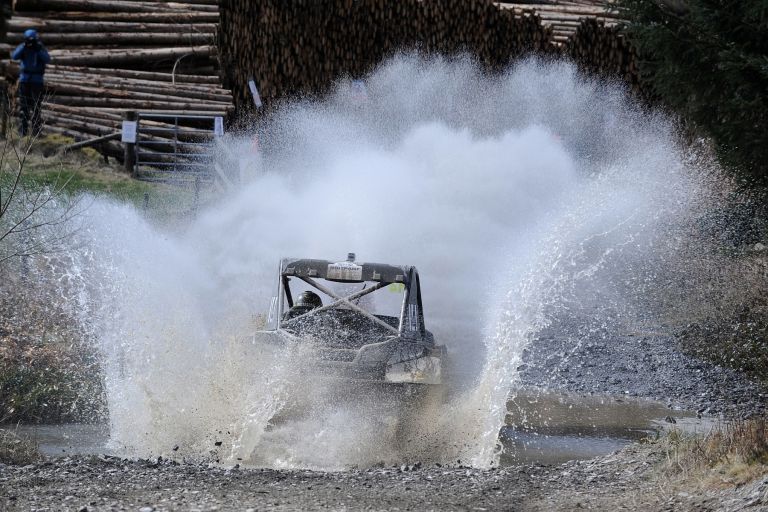 glug
By the end of the first day we were ahead of all the Freelanders and dicing reasonably close with a couple of the Land Rover based monsters with a best time of 10m 21 seconds we were pretty pleased.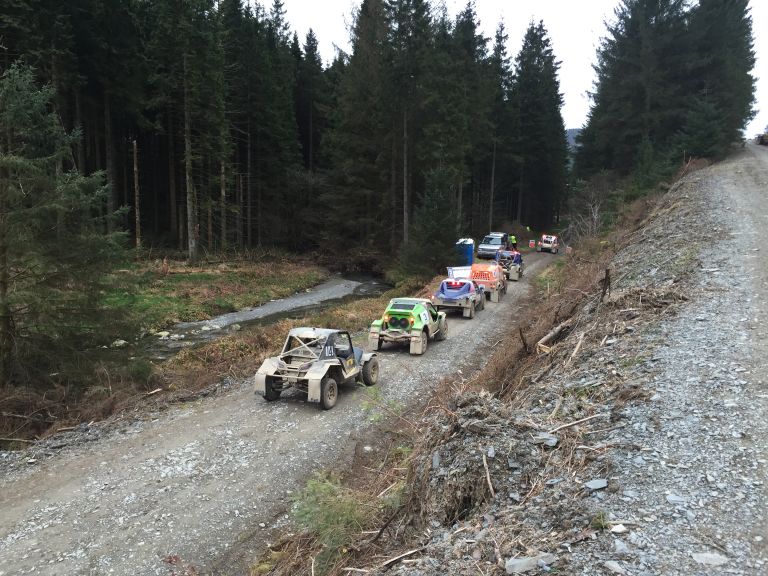 Waiting for next run
The following day emerged to again give us some nice sunshine but with bad weather forecast for later in the day everyone elected to get the runs done early and get the best times from the dry track. However, it appeared the track was too quick and there were some safety concerns so a chicane was placed in one of the faster sections to slow down the quicker cars, sadly this had the dramatic effect of killing our times – the Wildcat turning circle was simply too wide to get round all three turns of the chicane, with no hand brake or fiddler brakes we couldnt get the back round to clear the tight corner so every lap we had to put the car in reverse – added 40 seconds to each lap. Ultimately that meant we had no chance of over taking a couple of the quicker cars that we were catching on the previous day and relegated us down to 10th. Whilst this is frustrating there was little point getting upset, we are a new class of car to the championship and as such we need to fit in with the established competitors, we can make some changes to the car to help this clear weakness but in future we're sure the issue will be avoided.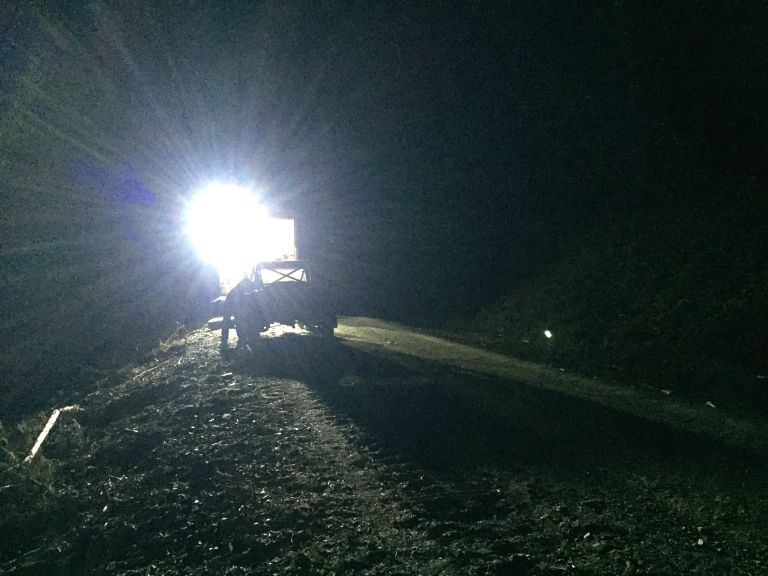 Mobile Centre lights worked a treat
Despite the issues we left the weekend feeling pretty happy, we were able to compete with some of the faster class cars and with some more experience and tracks more suited to rougher terrain we feel we can surpass a lot of these, on the faster more smooth tracks we will always have that power deficit which together with the lack of fiddler brake on the car can be addressed. In the rougher sections we were a lot faster than most if not all of the other cars (hard to tell, there are no sector times in that regard) but anecdotally thats what we understand so on the roughter tracks later in the season we should be climbing the leader board.
The car itself suffered zero mechanical failures, all we did was spanner check it each time and clean the windscreen in between each run, we didnt even have a puncture which considering the very low pressures we were trying is an achievement.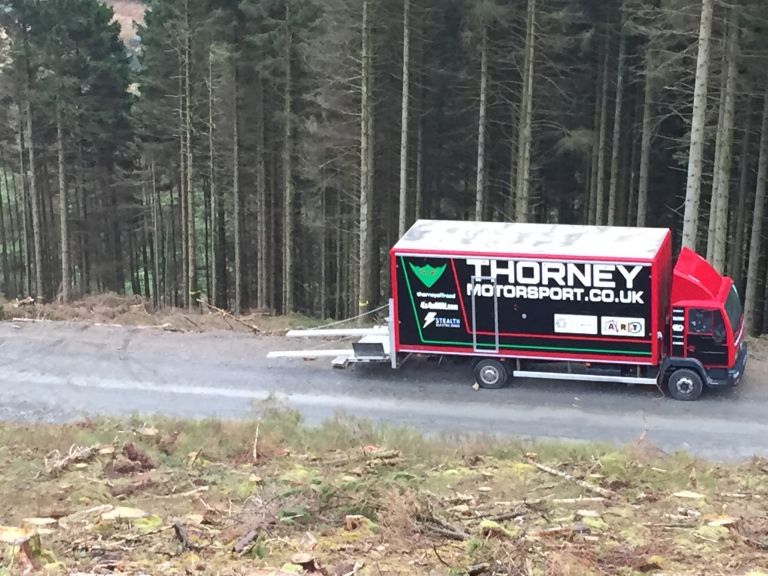 Interesting place to park up
As for the series, well a nice bunch of competitors and organisors you'll find hard to beat, everyone was welcoming and helped us when we screwed up on rules or timings, we'd forgotton to fit a horn to the car (not something we use much in circuit racing!) the factory Isuzu team ripped one off one of their support cars for us to use – thanks for that guys!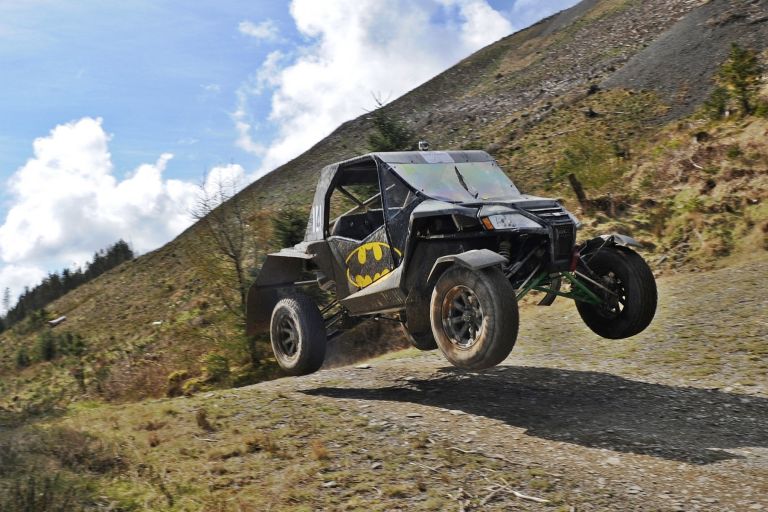 jump
The race will be televised on Motors TV on the 29th April.
Thorney Motorsport on Facebook