Well, we'd love to share a wonderful report of a successful race weekend, but we cant, all we can share with you is an example of utterly crap driving that robbed Callum of his first out right race win and caused significant damage to the car.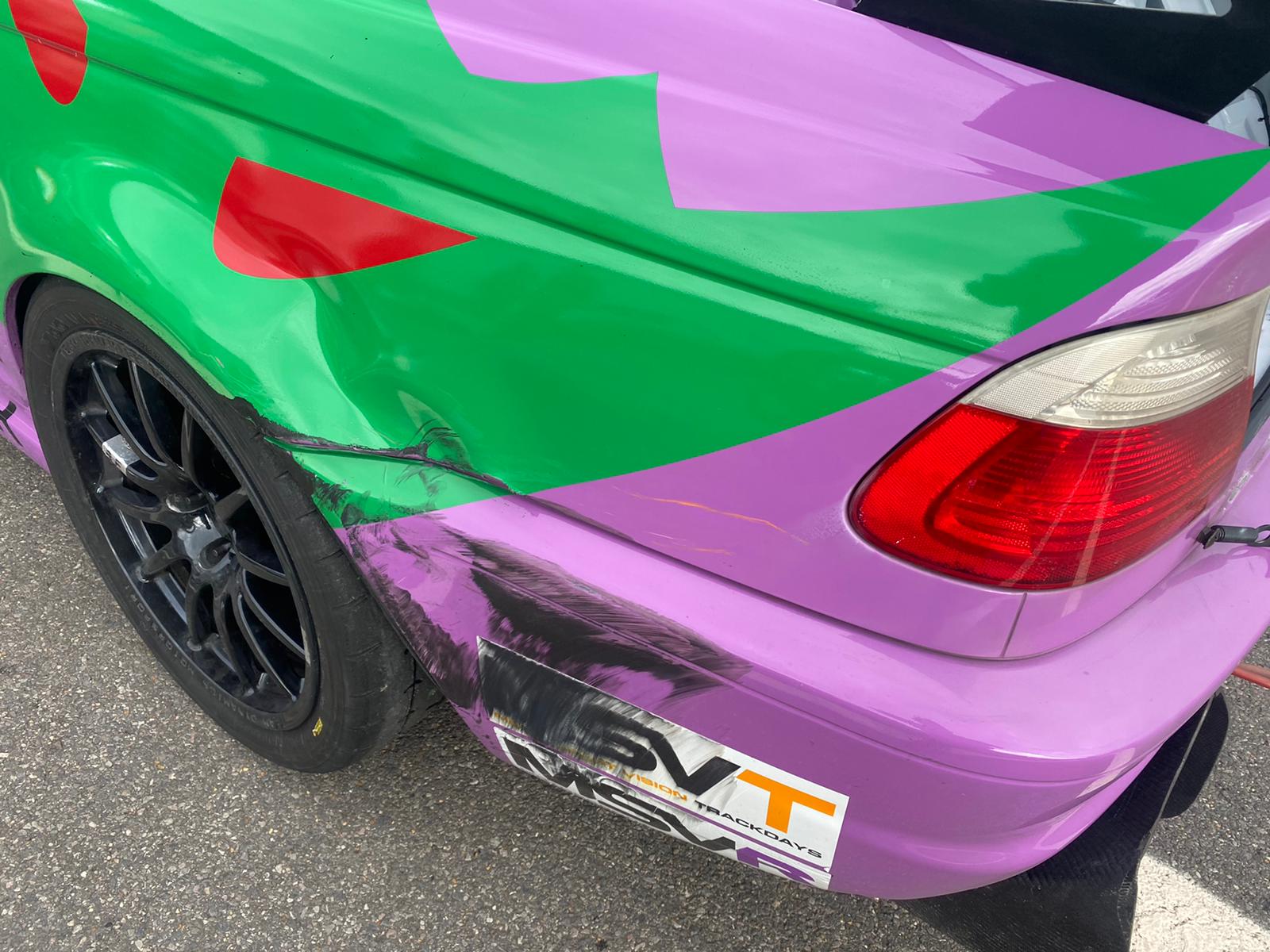 Weekend actually started pretty well, we tested there on the Friday and as it was the indy circuit only (the race was on the GP) we spent a lot of time going through braking points for Paddock Hill, Druids and Graham Hill as they are shared on both track formats and getting down to a high 16's times were were confident of a good race, seeing as race day was forecast to be wet we even got some testing done on a wet set up, it was a good day.
Race day was not, qualifying was ok, Callum qualified 5th in a busy grid but with difficult conditions for everyone we were happy and the race started well, Callum got another good start and immediately was setting fastest lap times whilst overtaking the cars ahead.
Running in 2nd place and gaining on the leader Callum was hit from the outside at the entry to Paddock Hill, the impact was severe enough to puncture the tyre and snap the track rod and lower suspension arm, but dont take our word for it, courtesy of Darkside Developments here is the in car video of the contact;
Callum is the purple M3 in the distance and the contact is from the orange M3 at the entrance to Paddock Hill.
Now we've been racing for 20 years, we understand these things happen but when hit from the outside of the turn, at the very rear of the car and the other driver protests that it wasn't his fault then there is something quite wrong with either driving standards or the process by which they are policed. Its such a shame for Callum as he was heading for a race win and ended up with a DNF.
As ever onwards we go, we need to fix the car and get it ready for next race Snetterton, hopefully a less eventful race then!