Usually we do a whole season of reports for our BMW racing, a blow by blow account of each race, how we did and how things are going but its safe to say that this year has been a little different. First of all Covid meant the season was about as screwed up as was possible, back to back races followed by 3 month gaps, its certainly been the worst race calendar we have had in 20 years of racing but secondly and more importantly it has again been a trying season for us.
Of a 6 race season we have had three DNF's only one of which was a driver error, the rest were both avoidable contact which resulted in significant damage to our M3. In both cases the other drivers were not punished at all and the costs of repair have totalled over £6,000. In both the races where Cal was literally punted off at speed he was either leading or going so well that a win was nearly assured so its fair to say we've not really wanted to share our season with anyone, which is of course not great for our partners. Its even more frustrating if you tally the expected race finishes to include where we should have finished Cal would have won the championship (not including Cadwell Park, where Cal fell off under his own efforts :)).
However, racing can be a cruel mistress and its best not to dwell on our relative lack of luck but you can assume at this point that that luck continued in the same vein for the last round at Brands Hatch!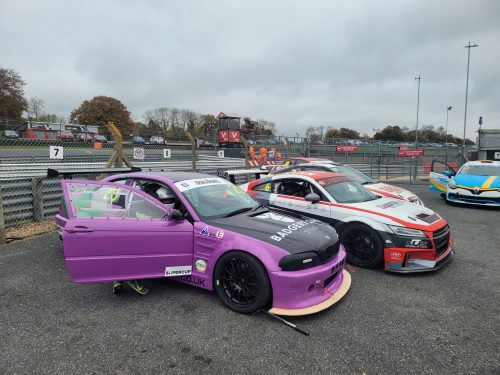 After a 3 month gap in racing we all assumed that Callum would be a bit rusty but he was having none of that and within a few laps of practice on Friday he was within a second of his previous best time and taking account he was on crap, old tyres we were pretty happy, but then sadly our luck returned and he came back in with a hole in a radiator resulting in a loss of coolant and pretty much game over for the day. Happily the fix was good old radweld but even though it sealed the hole its not normally the sort of fix you'd put into a custom built racing car radiator, but, needs must.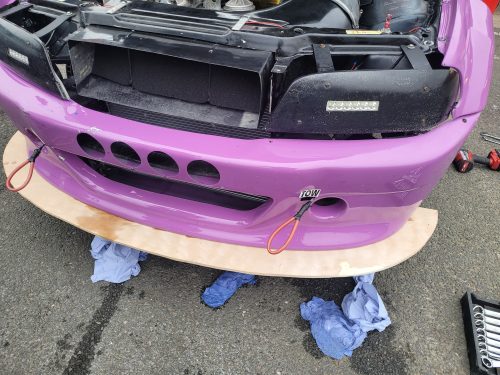 Race day arrived and the whole team was there for the day, usually Cal is only supported on race day by his No1 tech, Tom and Keith, my job (I'm Cals instructor and set up blokie) is done on the Friday so Cal had the whole family and all of us to cheer him on so we had high hopes and high spirits. Qualifying was Ok, not great but we were a little nervous of the radiator fix and Cal set about with a decent start and chasing down the leaders. However, pretty soon after the pitstops coming past a pair of back market cars he got tagged right into the right rear wheel which cracked the rear diff housing. It was an innocuous tap but was right on the wheel just was just another bit of a bad luck to end our season. Cal nursed it how to finish in 6th.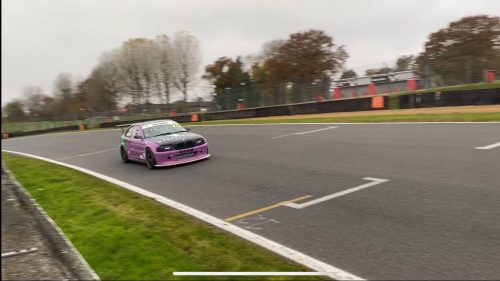 Despite our poor luck Cal ended the season 4th overall, which considering the season was an astounding result really, even just one of the non fault DNF's would have put him in near contention for the win but sadly it wasnt to be. Our thoughts now pass to next season and its fair to say that all of our partners want a change for next year, whether thats a change of car, change of series or just a change of bad luck only time will tell but again our thanks to all of the team, Badgers Oaks Stud especially but also from our supplier partners and of course the team. See you in 2022.