Well, first full season in his E46 M3 and first class championship, cant say better than that.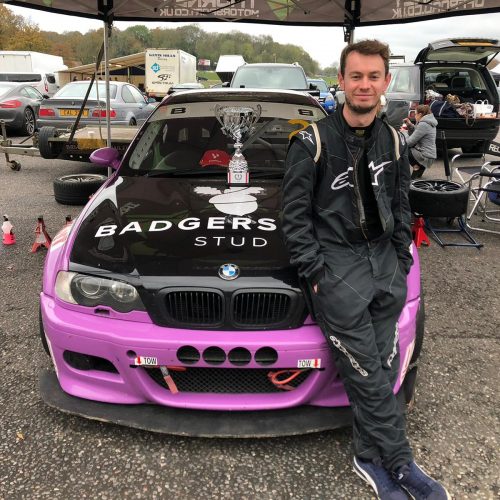 Last round was at Brands Hatch, a track Callum knows well, he had a 5 point lead going into the last race but taking into account dropped rounds was a net 8 points behind in second place so he had to beat the Apple Cars Clio on the track to win.
Qualifying went pretty well, class pole and 9th overall ahead of the Clio so we were hopeful of a good race but Brands Indy can be a cruel place especially with lots of cars in lots of classes all vying for position and the track was very greasy so a simple off could drop us back badly and quickly. What made it more stressful was the eclectic scoring where as well as points for class position Callum also scored points for each higher class car he finished ahead as well so 30+ points was possible.
Well after all the build up the race itself (in terms of championship) was less stressful, the Apple Cars clio slid hit another car on lap two and coming in to check for damage meant they dropped two laps, pretty hard to come back from that so Callum got a (relatively) easy run to the line. However with the 8 point difference (and 7 points difference between 1st and 2nd) he really had to push for every overtake to ensure he got enough points to win.
Well first on the road lead to some nervous waiting whilst they added it all up and it was confirmed – Callum was Class B champion MSV Supercup. Well done Callum, very much deserved.
These end of season reports are all about thanking everyone involved and this is no exception, Callum and his family of supporters make the race weekends fun but Tom, his No1 mechanic and Keith (truckie) have been standfast and 100% in their support in making sure the car ran 100% all year allowing Callum to concentrate on driving. Thanks to the sponsors and partners; Badger Oak Stud, Silverstone Shooting Centre (well thats us, but we got some great publicity), Aimpoint, Wildcat Moderators and most of all to Callum, for reminding us that not all quick race car drivers are twats.
Roll on 2020, with a full power E46 M3 and Class S with the MSV Supercup.