By John Thorne – Tue, 09 Jun 2009 08:30
Well, they say motor racing is a series of ups and downs; they're not wrong! The first SportMaxx rounds at Rockingham back in April were pretty unpleasant for the whole team. A variety of contributing 'off-track' factors that we were unprepared to live with. As a direct result we have had driver changes, in place for the rest of the season. Abbie Eaton remains in the Corsa, however, it's all change in the Astra. Leyton Clarke has been replaced with Stuart Clarke (no relation) a change with which we are delighted. Leyton is great and an excellent driver, but off track issues meant it wasn't right to stay with us here at Thorney Motorsport. So, Leyton has joined Triple 8 Racing. Stuart Clarke is a long established friend of the team, he has an excellent racing pedigree with experience in Honda Civics and Renault Clios. We are over the moon to have him on board. With the ink not even dry on that deal we were hugely surprised to recieve a call from John Allison, former VXR Driver of the Year 2008. John has been entered with 888 for this season but had some issues with 888 at Rockingham and wanted to know if we could build him a car and join us? Damn right we could! John impressed us all last year in his first season of racing and to have him and Stuart in identical Astras on the grid was pretty much a dream team for us. With Rockingham behind us we were keen to get on with Brands Hatch.
The Friday test went well, Stuart immediately gelled with the Astra within a few laps and we were hopeful he would be able to settle straight into the race. John having had a season in the 888 Astra VXR was expecting more of the same, however after his first drive he came in grinning like a mad thing, "It's just so much better handling than my previous Astra, much stiffer and much easier to get round the corners." We were obviously delighted, we've spent a lot of time and effort designing our chassis cages and they clearly work. Abbie couldn't attend the Friday test sessions due to her exam timetable at school so we all looked forward to Saturday.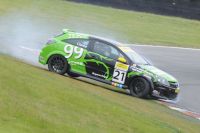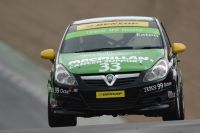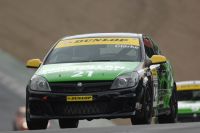 Qualifying.
Well if we needed any more proof that Stuart had settled into his car with ease then we got it. John adjusted to the difference in handling our Astra VXR offered, and qualifyed in an excellent 5th position. Stuart pulled a blinder and banged it on pole with a minute to go – excellent! Abbie did her usual pole position in class B – she just gets the car, goes out puts it on pole and heads back – class.
Race 1.
With Stuart on pole and John close behind we were hopeful of a good race but straight from the lights both got tangled in a startline tussle that allowed Simon Shaw in the SEAT to get an early lead. Stuart jumped in close behind but a brave move on cold tyres through Graham Hill was a move too far and a long period going sideways down the track put him back in 6th. John had an even tougher start and went back to dead last after getting tangled up in a start line fight. Abbie on the other hand got off to a good start, got past the other Class B cars and proceeded to chase down a couple of Class A cars.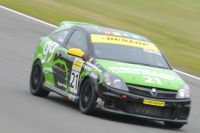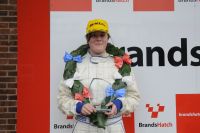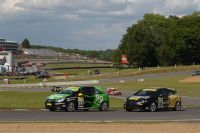 As the race progressed both John and Stuart fought their way through the field with great success, each lap they slowly picked off one car after another and ended up with John in 6th and Stuart 7th, from a difficult start that was impressive driving from them both. John going from 18th to 6th was an excellent drive especially. Abbie again did her usual trick, get up there, mix with a few Class A cars and bring home the class win and fastest lap – that makes 4 wins from 4 starts – excellent driving.
Race 2.
Now here is where it all went wrong. Watching the race from behind the pits I was standing with Richard Good and one of their engineers from Germany as we watched the cars come round Graham Hill turn and we all let out a gasp at the same time, both our Astra were all over the place. Stuart ran massively wide and John struggled to get any power down at all spinning the tyres all the way down the back straight, what the hell had happened? Abbie was having an equally torrid time, Rays Grimes in his Clio overcooked Paddock Hill bend and collected Abbie's Corsa up the hill pushing her into the gravel and out of the race – her first DNF. John and Stuart did their best in the race, both were clearly struggling with the cars and KW thought perhaps they had had multiple suspension failure – which is pretty rare in racing. Both of them battled on to finish 5th and 6th respectively.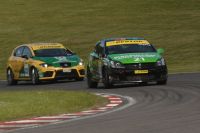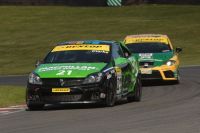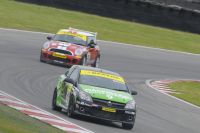 Back in the paddock we scratched our heads, the cars were identical to race 1, even the same tyres were used and yet the handling was radically different with massive understeer. Eventually after a process of elimination we checked the suspension settings and were shocked to find that both cars had had their rebound damping set to full soft!  We were both furious and disappointed. The adjustment on the KW race suspension means that turning the rebound to full soft is in effect unscrewing the adjuster inside the unit – you never run the car at full soft as it essentially means the adjustor is unscrewed, this means that a large hit on the wheel could pierce the unit leading to wheel collapse – pretty damn dangerous. Both the cars were checked at 9pm Saturday night so it could only mean that someone broke into our awning and deliberately tampered with the suspension – we had been sabotaged!
Race 3.
We tried to put all this behind us and concentrate on the final race. Abbies car had minor damage from the collision with Ray and she was keen to get back to her winning streak, John and Stuart were both angry and fired up at the same time, we wanted some revenge.  Abbie got off to an excellent start and had a good fight with the SEAT and quickly came back to dominate, chasing down the Class A BMW diesels she clearly had something to prove after her DNF from race 2 and she romped home for win 2 of the weekend and extended her success with 5 wins from 6 starts – pretty much unbeatable.
With the grid based on a draw John got pole and Stuart in 5th and they both good reasonable starts, John quickly set up a decent lead with Stuart in close pursuit. John was doing well defending from Wallbank and Clarke when Wallbank hit him in the rear pushing him wide and allowing both Wallbank and Clarke up the inside at Druids pushing him to third. Not letting this get his head down John proceeded to chase down Wallbank eventually passing him to take second place equalling his best ever finish from last season in only his third race in the car – brilliant. Stuart had less fun, he fought his way up to 4th and was chasing down Wallbank in third when he left it just a little late for Paddock Hill and slid off into the gravel.
Overall we have mixed feelings from the weekend. John drove stunningly well to get a well deserved 2nd place despite being bundled off first. Abbie had two great drives to secure two more wins and was just in the wrong place at the wrong time in race 2. Stuarts first drive in the car showed he can settle in straight away and a bit of luck coming his way is sure to challenge for some wins in the rest of the season.
And that's where we don't know what is happening. Both John and Stuart are uncomfortable driving in a Championship where a fellow competitor is prepared to put their lives at risk by sabotaging our cars. Reprehensible as any kind of tampering in the manner that was chosen was deliberately done to potentially cause a serious injury, it's sad but perhaps this is how racing is going to be!
John
Thorney Motorsport on Facebook