By John Thorne – Mon, 28 Sep 2009 08:00
Final round to what feels like the end of a long season. Abbie had already secured Class B some time ago and there was still the outside chance of taking the overall championship if Simon Shaw in the SEAT had a bit of bad luck  in the races and racing being racing you never know what will happen. John was still raring to go in his Astra VXR and we had a new driver in the sister Astra of Alex Ashby. Alex history is Funcup which are endurance races of up to 24hrs so it was his first time experiencing the cut and thrust of sprint racing.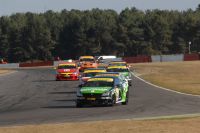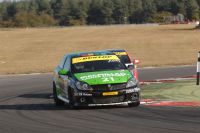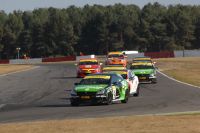 With John and Abbie unable to make the Friday test we had a day with Alex to let him settle into the car which paid dividends as he was able to quickly find some good lines round the circuit and get used to the much higher torque the race Astra has over his old Funcup car. We've been testing some new suspension with Nitron in the last few weeks but with two drivers unable to make the Friday test and a new driver in the Astra we went back to the KW suspension we've been running on for the season but we had a good set up last year on the KW's so it made sense to stick with until we can get some further decent test time.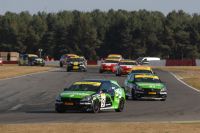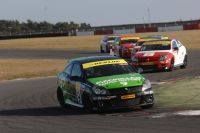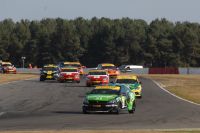 Qualifying
Missing the Friday test mean that John and Abbie needed to get used to the circuit and the cars again in qualifying which is never easy but both did well, John in 6th and Alex just behind in 7th. Abbie had some competition in class B with two guest drivers in the second EJN Clio with Patrick Fletcher and the Dunlop guest SEAT with Ryan Benfleet in, that put Abbie in third on the grid but theoretical pole as guest drivers don't count for points. Alex's 7th place was very good good considering his limited time in the car.
Race 1
Adrian Churchill got off to a brilliant start early on with Simon Shaw chasing him with a procession of Astra VXR's from 888 and us close behind. Alex and John made good progression up from their grid positions but as the race progressed they seemed to either beholding each other up or undecided who was quicker, sadly this allowed the other Astras to create a gap. Churchill suffered a drive shaft failure late in the race which left Simon clear to take the win. Towards the end John suffered a miss fire due to a failed fuel sender sensor so dropped back to finish 12th but Alex drove extremely well to finish 5th in his first ever race in the Astra. Abbie followed in procession behind the guest Seat and the Clio to secure second in class after Fletchers Clio retired with steering issues but still picked up the win and fastest lap for the class.
Race 2
With John disappointed from race 1 we expected him to progress through the field and by the end of lap 1 he had moved from 12th to 6th just behind Alex. They continued to lap very closely after eventually getting past Corte's Astra VXR but the gap ahead to Clarke, Wallbank and Shaw was too far and they settled for 4th and 5th respectively, a good result from their starting positions. Abbie on the other hand got the worse luck possible, caught in s start line squeeze between a mini and a Clio she had the tyre valve ripped out of the tyre forcing her to come into the pits, we got her back out again but in sprint racing you can't recover from a lap down, this effectively ended her championship chances, gutting but then thats racing sometimes.
Race 3
John was keen have a good end to the season and Alex was keen to get a podium from his first racing weekend but both were destined for let down. Alex drove brilliantly chasing down the 888 Astra of Wallbank and Clarke overtaking both but a mistake under braking let them both back through leaving him to come in in 6th place. It was even more frustrating for John, chasing down Simon Adrian Churchill for first place, gaining every lap he came round the Russel chicane and suddenly veered into the pitwall hitting it pretty hard. Investigation show the KW strut had sheered forcing the wheel to collapse into the wheel arch. John had to spend some time in the medical centre with injuries to his shoulder and neck, no doubt limited by the Dunlop Sportmaxx regulations mandating the use of HANS devices.
So all in all a mixed end to the season. We've found a good driver in Alex who clearly gelled with the Astra very quickly. Abbie wrapped up the Class B championship but just came up short of the overall title due to a bit of bad luck and thin class B grids. John finished his season a bit beaten up with his first real crash on track which is a sobering feeling for anyone. Overall title went to a well deserved Simon Shaw, Simon kept his SEAT out of trouble all season scoring some late season double wins that helped him seal the title, well done to him.
We're not sure of our plans for next year, the CSL Cup is taking of nicely and we will be race prepping our E92 M3 to complete in that series as it grows but Sportmaxx is still something we wish to do next year. John and Alex seem keen to stay in the Astras (budget permitting) but the Corsa is likely to be sold we think, with back to back class wins and an overall championship win under its belt there is little more to prove with the car and we like the idea of doing something new. Current ideas include a VXR8 or an Insignia but we'll decide after the technical meetings due in the next few weeks. The Insignia would be a challenge as a race car but we do like challenges, everyone said the Corsa would be terrible and we proved them wrong, even to the extent that Kevin George is now switched from a BMW One series to his own Corsa SRI for Sportmaxx, we're sure the Insignia would make an excellent race car. On the other hand the idea of racing a big, rear wheel drive VXR8 amongst a load of front wheel drive hit hatches has got to be a laugh, what do you think?
John
Thorney Motorsport on Facebook