By Thorney Motorsport – Thu, 01 Jan 2009 05:00
The E36 M3 is pretty much the perfect BMW chassis to prepare for racing, the shell is lightweight, strong and readily adaptable to track preparation and donor vehicles can be obtained for relatively little money. The 3.0L and 3.2L engines are strong and pretty reliable and relatively easily tuned to achieve over 360bhp.
Extensive chassis work is needed to strengthen the suspension towers (especially at the front) to take full six point cages but other than that the chassis is good to go. Suspension choice is almost unlimited with all the major suppliers providing full race systems from KW to Bilstein from single through to 4 way adjustable set ups.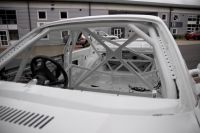 With a relatively lightweight chassis brake upgrades can be limited to enhancements to the rear pads and disks only with an AP Racing front four or six pot front caliper upgrade needed at the front, braided lines, uprated fluid are obvious requirements but extensive replacement bias set ups and pedal box options all possible.
For cages we tend to recommend the Safety Devices bolt in option although other options are all available and all certificated for UK and international competition, half and track day cages are also available. Budget is the only contraint on interiors and equipment from £2,000 for a bespoke Stack instrument display to £150 for a simple lap timer and additional instrumentation set up.
Engine preparation is a delicate matter, everything from removal of Vanos gears to complete bottom end replacement are all catered for, we aim to generate around 350bhp from each 3.2L engine we prepare, obviously budget is the only real contraint here.
We specialise in full car set up from aquiring a donor vehicle on your behalf through to complete turnkey finishing and dynamic vehicle adjustment. We also offer a complete package of driver training expecially for those wishing to increase their race experience or those wishing to move from track days to proper racing (there is a World of difference).
Thorney Motorsport on Facebook