By John Thorne – Wed, 12 Aug 2009 10:53
]]>
Its a different month this month, thus far we've covered catback exhausts and detailing and the plan this month was to cover some aspectsof brakes or suspension in detail but we've only gone some way in both theseareas so we thought we'd cover them this month by introducing the cars otherrole as the CSL Cup Safety Car.
The CSL Cup is a new race series that we (ThorneyMotorsport, Geoff Steel Racing, BM Sport, Simpson Motorsport and Ray WestTuning) have created this year designed and developed for the BMW E46 M3 andCSL only, you may have read some of the race reports in PBMW last month.  As with any race series there comes a time ontrack where the cars need to be controlled and so we needed to create a SafetyCar for the series and the E92 M3 seemed perfect.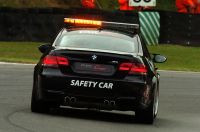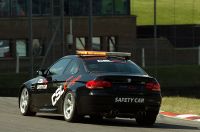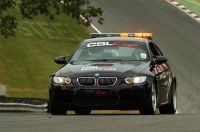 A Safety Car is pretty much what it sounds like, its role isto come onto the circuit during the race in the event of a crash or incidentthat requires the competitors to slow down whilst the incident is cleared soracing can commence. As the CSL Cup cars run on slick tyres the Safety Carneeds to be able to lap fast enough to enable the competitors to keep heat intheir tyres so it needs to be quick. At Rockingham when the E92 M3 wasn't readywe had to use a Mini as a safety car and it wasn't fast enough, as soon as itcame in we all struggled to get any grip from the then cold tyres!
As well as being fast the Safety Car needs to havesophisticated roof lights, these are used to communicate to race control andthe following drivers what to do, when the lights are on the race cars are notallowed to pass, when they turn off it means the safety car is about to enterthe pits and once past the line the cars are allowed to race again –simple.  Now we're a tuning company/raceteam, the only thing we know about roof lights is to keep a look out for onesthat have blue in them so we contacted Mobile Centre in Evesham for theiradvice, Mobile Centre is owned by Tim who knows more about LED lights, strobes,lazer detectors and all manner of flashy bits than we could ever hope to andTim recommended a Federal light bar as used by F1 and numerous law enforcementagencies across Europe and the US so we sorted a Federal Legend LED lightbar.
Now I don't know about you but I've never really taken muchinterest in lightbars but when this thing arrived we were a bit blown away, fora start it needs to be hard wired into the car so any idea of quickly whippingit off in between racing was quickly dropped but the impressive bit is that thewhole thing is programmable via a laptop. There are 48 LED's (none are blue –that would be illegal) and any combination of flashing sequences can beprogrammed in, you can even have it pointing one direction or the other via thesequence – pretty cool. So after a bit of wiring and fitting the control box tothe dash we programmed it to flash side to side at the back so the drivers knowwhat to do and double flash front so Race Control knew what was happening andjob done.
With the lightbar sorted we turned our attention to the caritself. Overall we have been most disappointed with the cars handling andbraking and whilst we develop more serious upgrades as suspension and brakekits we wanted to test more cost effective upgrades in these departments.
Initial handling upgrades usually take the form of enhancingthe geometry set up, lowering springs and finally full suspension kits, we arecurrently developing a KW Clubsport kit for the car but in the meantime wethought we'd try the Eibach lowering spring kit combined with a more aggressivegeometry. The result is pretty impressive, the car is 40mm lower and combinedwith more aggressive toe and camber settings front and rear the handling isdramatically improved. Turn in on corners and roundabouts has less role andless bounce and mid corner grip is enhanced by less loading up of the dampersdue to overly soft springs. Ride is harder but its not harsh and overall thecar looks and drives better in every regards; not bad for a few hundred quid.
Brakes are always a problem for BMW it seems, the E46 M3brakes were dreadful and whilst the E92 M3 ones are better they are stillwoeful when you consider the kind of car the M3 is. AP Racing, Alcon, Bremboand others have brakes kit now available for the E92 but with these costingupwards of £4,000 we wanted to try a more cost effective upgrade for those withless extreme requirements.
We've long been a fan of Pagid pads so a quick call toCompetition Braking (our Pagid supplier) and we got a nice set of RS29 pads totry. We tend to recommend RS29 (also called Pagid Yellows due to their colour)as the top pick for track work or racing but with the heavy E92 chassis wethought it was a good first pick. The only downside with Pagid RS29 pads isthat they can squeal if they get dirty for example by spending a lot of time intraffic so they need to be got nice and hot regularly to keep this to aminimum. Braking with the RS29's is much much better. On standard pads the fadecomes in relatively early and they don't inspire confidence, whilst pads aloneare not going to create a dramatic effect the extra confidence they inspiremeans it is an extremely effective upgrade for not much more money than therelatively poor OEM pads.
The final aspect we've been working on has been wheels, wewill do a full comparison in weights and costs in the next feature but forBrands Hatch we tried the RAYS TE37 19" wheel that we used to great effect onthe CSL. Wider rim width and wider track were no issue on the chassis even withlowered ride height and combined with the Michelin Cup+ tyres the E92 M3 comeson (we got rid of the SP2 tyres the car was supplied with) the car felt niceand planted both on the road and track.
The cars first run as a Safety Car was at Brands Hatch,driven by a designated Safety Car driver (who must possess a competitionlicence) the driver and observer must stay with the car whenever a race isactive. During our two CSL Cup races the car came out once per race, once whenMark Steward spun off at Paddock Hill and once when John Harrison's suspensioncollapsed in race two. Comment from the driver? "Best Safety Car I've everdriven……can I keep it?"
Next month we should be either finally sorting brakes orsuspension but as with all development, we really don't know until we see theresults.
John
Thorney Motorsport on Facebook