In 2017 we were the first racing UTV to be invited to attend the famous Goodwood Festival of Speed event where we joined the other off road race cars in the Britpart off road arena. We had a great time and clearly Goodwood thought so too so for 2018 we were invited to run a few cars and provide passenger rides for the guests. Our brief was simple – make it exciting, give the public, noise, excitement, adrenalin and a lasting memory to take home from the event.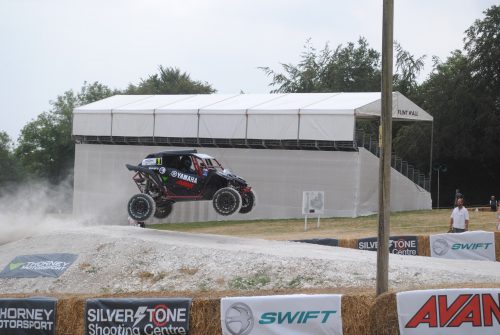 First off we needed an area to run in, the Britpart off road arena already had a great group of off road race cars attending and there wasnt the room for us to run passenger rides on the same track and also we wanted jumps, lots of them as thats one of the things UTV's do well – jump. So with Audi Allroad having vacated their site we took over their track and set about redeveloping it for the Yamahas.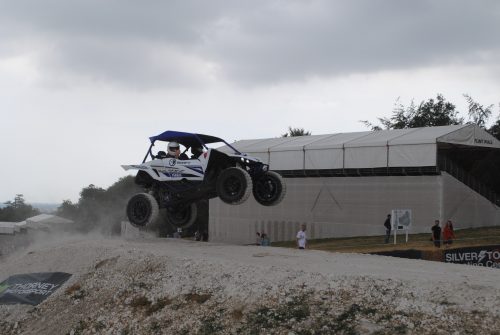 First thing we did was extend the track into the woods, this meant arriving with our Avant mini loader fitted with its 3 in 1 bucket to grade and landscape the turns inside the woods, the Audi's couldnt make it through here so we had to effectively clear the track, cut back trees and move in hay bales to protect the cars (and the trees) from impact. It wasnt easy moving hay bales that weigh up to 850kg each but our Avant did its job as always.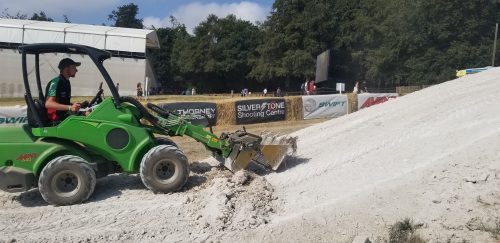 Next up was to re-design the track to bring the action further down the hill so the guests could more easily see the fun and excitement happening so with some help from Goodwood we built a new jump which was suitable to get the maximum airtime for the cars. The end result was a 2 minute lap with 8 bomb holes, 6 jumps, 1 large jump and 12 tight turns which would both show off the Yamahas but also give the maximum excitement for the passengers.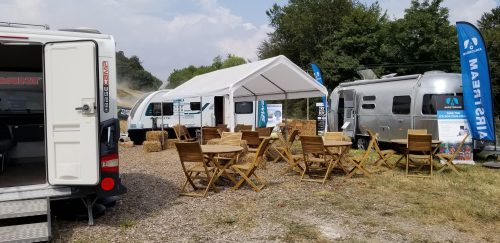 With such a large amount of work required as well as needing extra staff for the duration of the event (and the days before) we turned to one of our senior partners, Swift Leisure so that we could stay in comfort, so with their help we managed to get 18 staff nice and comfy in our own Swift Kontiti motor home but also in their Basecamp and even the Airstream units – a lot better than Premier Inn! To promote their involvement we arranged for a small display for the guests to see as well as one for Avant to show off the range of units as well.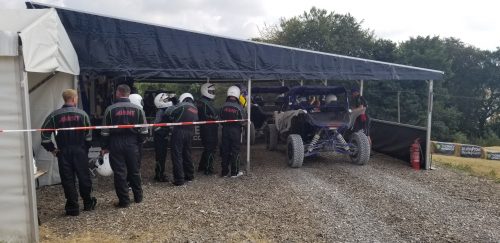 The event itself was simple, run as many passenger rides in the Yamahas for the guests as we could over three days of the event, to aid this we brought in our usual team drivers; Callum Noble, Chris Price, David Livesey as well as our two senior technicians Tom Samples and Tom Goodman and also got in some other Yamaha race car owners to both run their own car but also sub into our cars when the lines got too long, with a few issues of cars not being ready Justin Brooks ably stepped into the breach running his turbo charged Yamaha YXZ1000. John was on other duties, my job was to run the supercharged FIA, Dakar spec Yamaha YXZ1000 down the famous Goodwood Forest Rally stage – the first time ever a UTV has ever competed on the stage, an honour for both the car and us.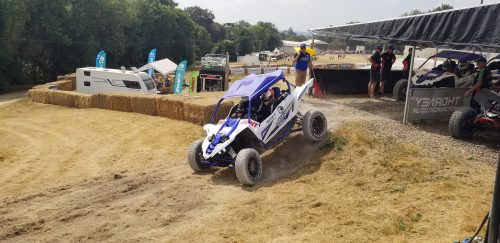 Over the next three days we had so much fun its hard to describe, over 700 passenger runs, 1200 laps, 1500 jumps and more smiles, shrieks and whoops of laughter you couldnt imagine. The conditions were tough, 30 degree heat, clouds of dust but the whole team performed admirably. The cars couldnt have done more, we used Thorney Motorpsport SxS Championship raced prepared cars, all were Sportshift models fitted with our stage 1 ECU upgrade with sports exhaust, wider track from our spacer kit, 15″ pro Rally race wheels, mud terrain tyres and extra harnesses and they were brilliant. Over the three days all we had were a couple of bent track rods from some overly exuberant driving, amazing.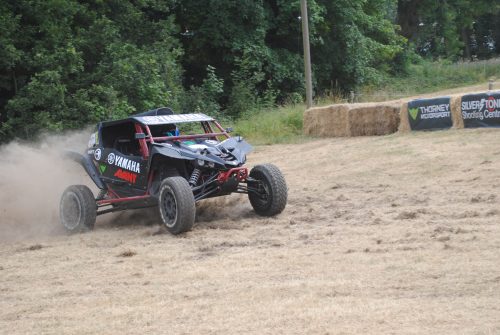 However the highlight for us were the guests, the sheer look of fear as they started off their run with a 5 foot drop off out of our race awning to the shrieks of laughter over the jump as they came back in, it was impossible not to be swept up in the good feeling of it all. However there was one guy, he comes in with his father, he had down syndrome, his dad comes up and says to me 'keep it slow, no jumps, he's too scared but he really wants to try'. So I send him out with Tom who dutifully gives a nice gentle ride and when he arrives back he has a smile so large the whole place was trying not to show emotion. They both say thanks and off they go. Two hours later they are back, dad comes up and says "he wants to have a go with all the jumps now!" so I send him out with David who drives like a lunatic (again) to bring him back and if we thought the smile the first time was big this time he came back with a grin that would make anyone smile with him. None of us will forget them, something I hope we have in common.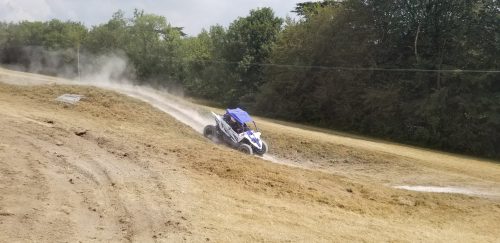 And the rally stage? Well, I wasnt allowed to drive at full chat, as the only UTV to ever run the stage it needed special insurance just to let it run so crashing wasnt an option but it was great fun, very very smooth chalk that a lot of the rally cars went out on tarmac tyres so our mud terrain tyres werent perfect but it was great fun. Even with some sensible driving we got a 3.09 time which was quicker than a lot of rally cars so I think we showed off the car and its class well. This was reflected by the interest the car got at the start, lovely to speak to so many rally drivers who all said the same thing 'I bet thats a laugh to drive' – it is. Importantly for us we were running the final configuration of stage 3 supercharger, nearly 2 years in development the car didnt put a foot wrong, 300bhp in one of these cars is just hilarious and despite the abuse the power upgrades were perfect, I've now signed off on it for sale as a result.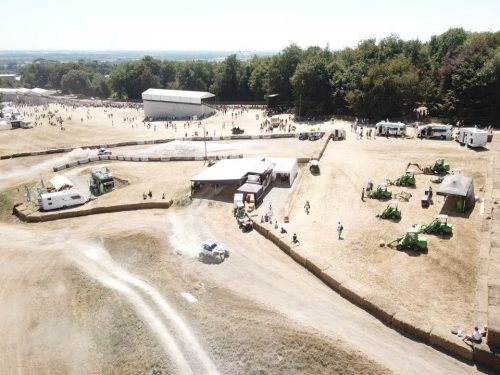 Huge thanks for all the support we needed to pull this off, our corporate partners Swift Leisure, Avant and Jung Heinrich (without whom we simply couldnt have got the cars there), to Goodwood for trusting us we could do it, to Yamaha for building the YXZ1000 – the toughtest most exciting UTV on the planet. So many individuals we need to thank; Tom, Tom, Keith, David, Callum, Justin, Chris, Carl, Matt, Simon, Ethan, Daniel, John, Raimo, Andy, Jenn, Nyah and my wife, Esme, who kept us and all of our guests fed and watered for the whole week. Thank you all. Goodwood have already said they want us back so we are now planning for 2019 and how to make it bigger, better and more exciting, pretty sure we can do that.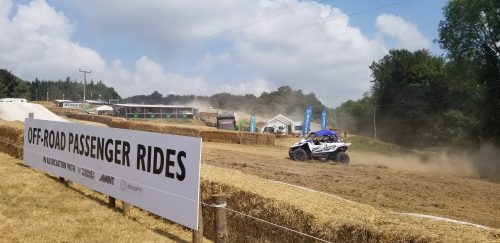 Oh and to the gentlemen I mentioned earlier, get in touch, no idea of your names or who you are but it would be nice to give you something extra for you coming along, its certainly a memory for us and I appreciate that.