A lot of our work now is for owners Worldwide via our International dealers and its come to our attention that the is a huge variance on service costs from region to region and even dealer to dealer. Some of this is explained by differences in labour rates, currency and local taxation but there is still a huge range of ports costs, labour times and even work undertaken that the typical owner has little real idea what they are getting. So, below is a summary of all the service intervals for every main McLaren model.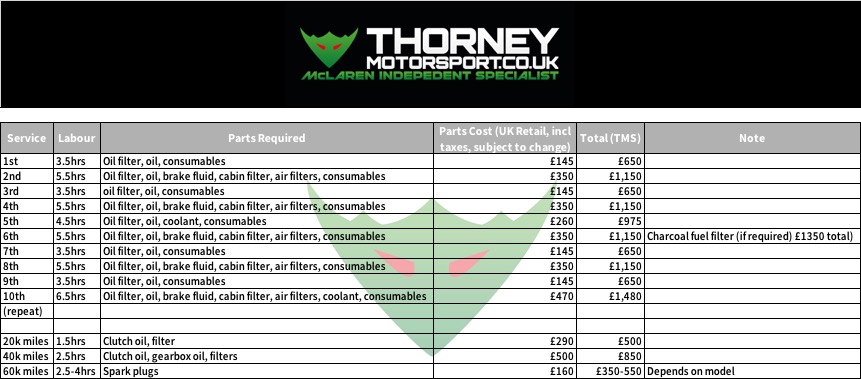 This covers all McLaren models save for the Senna and P1 and F1. There are subtle differences for the 765LT, the 675LT, 600LT and GT but not major and not worth listing separately. However, some models (570GT for example) where top end engine work such as spark plugs due to the design of the chassis does need the engine to come out so that does affect labour times.
Also, McLaren recommend the sports series models need the charcoal fuel filter to be replaced on the 6th year which requires the fuel tank to be removed. After speaking with the supplier of the filter we think this is excessive (manufacturer recommends 60-100k miles) so we only recommend replacement if there is any smell of fuel after brimming the tank, of course the choice is yours but we feel an informed owner is the best owner.
All of our international dealers follow our schedule as above, subject to local labour rates etc. For details on our current dealers see HERE