I've been to a fair old few track days (last count I think was near 200+) and I tend not to go to many these days as after racing they always feel a bit pointless. However with development of the MP12 tuning upgrades nearing completion we thought a bit of spirited driving to test them out in a more overt environment (rather than the behind closed doors testing we tend to do) so it would be a chance to see how the car compared to other Mclarens on track.
Mclaren have the image of being a bit cold, a little aloof in their image which is something I found was completely wrong when we happened to share some time at Le Mans this year (see the full report here) then I found everyone involved with the operation to be as passionate about their cars as the most unhinged Ferrari fan or Porsche owner out there and really opened my eyes to how the reality of the people does not reflect the harshness of the media image. With this in mind I was expecting much of the same at the last Pure Mclaren day at Silverstone.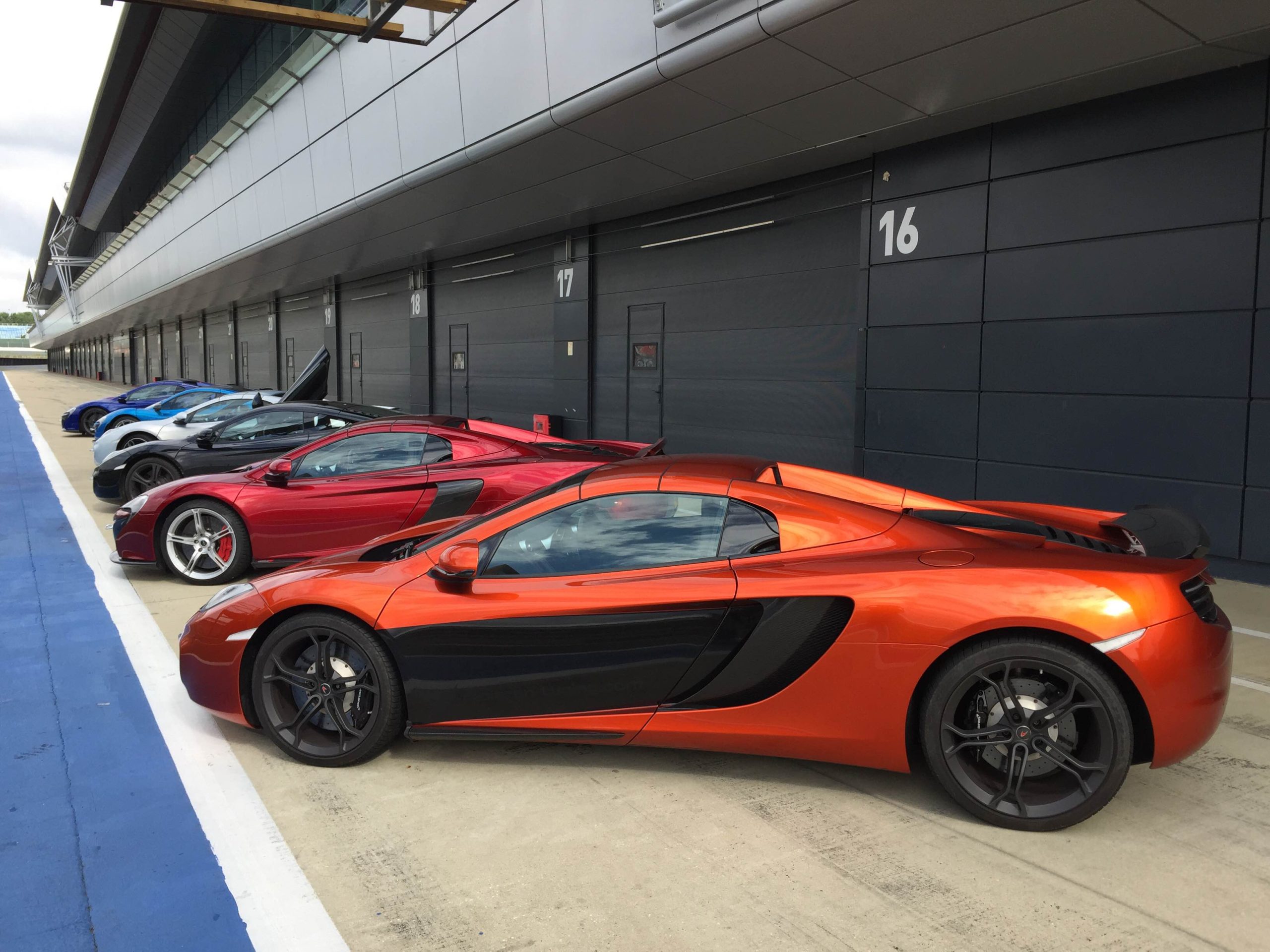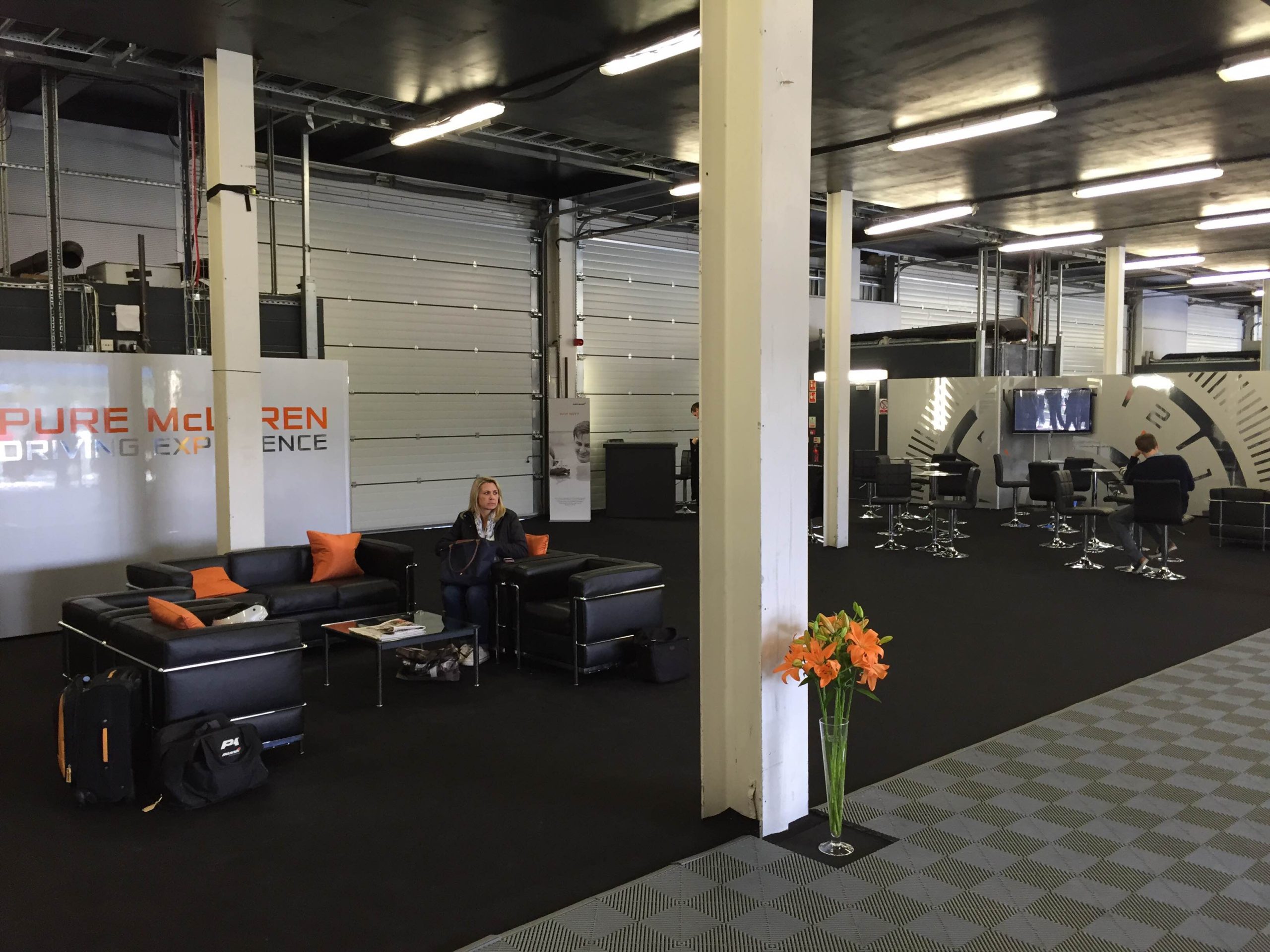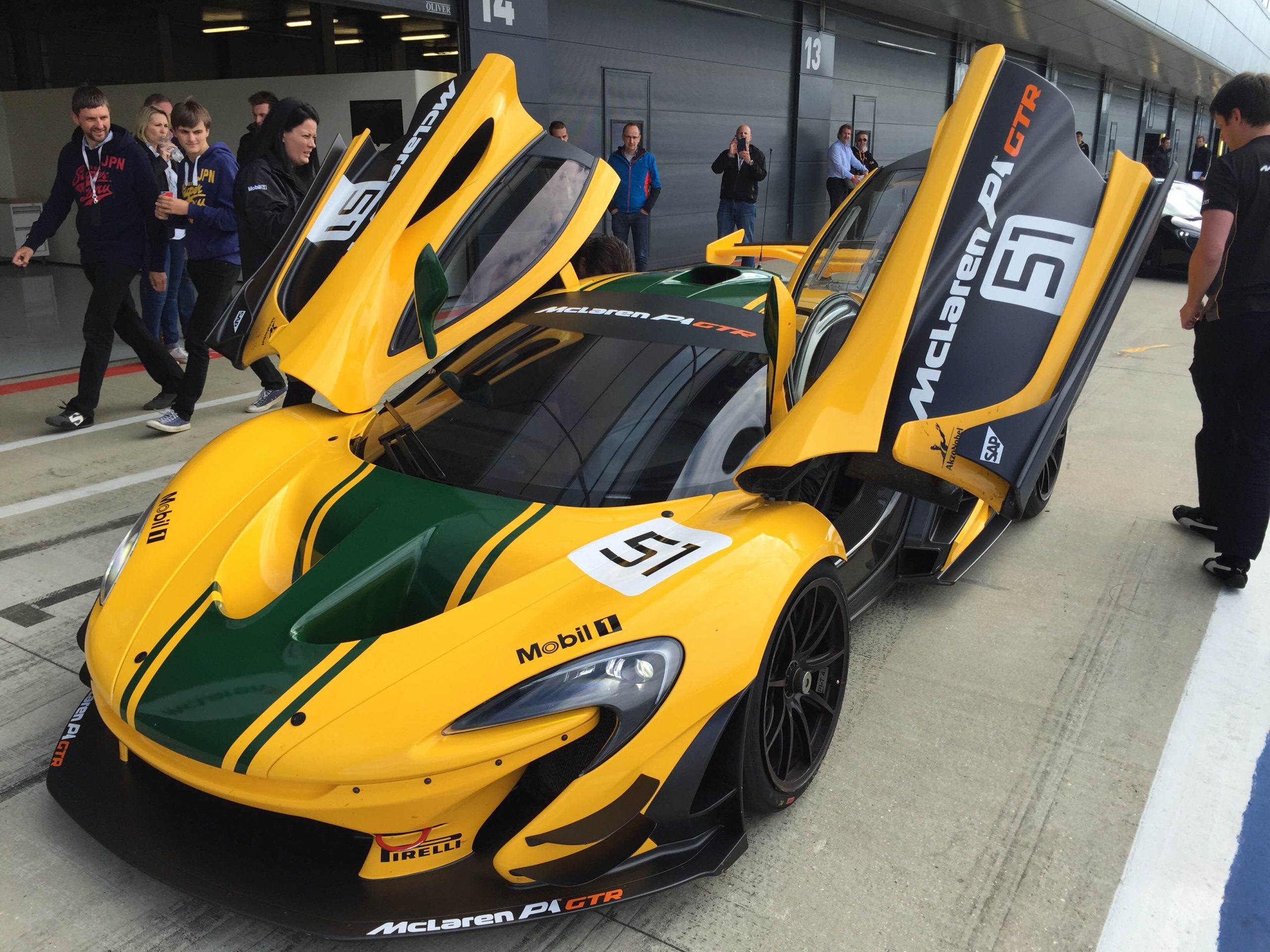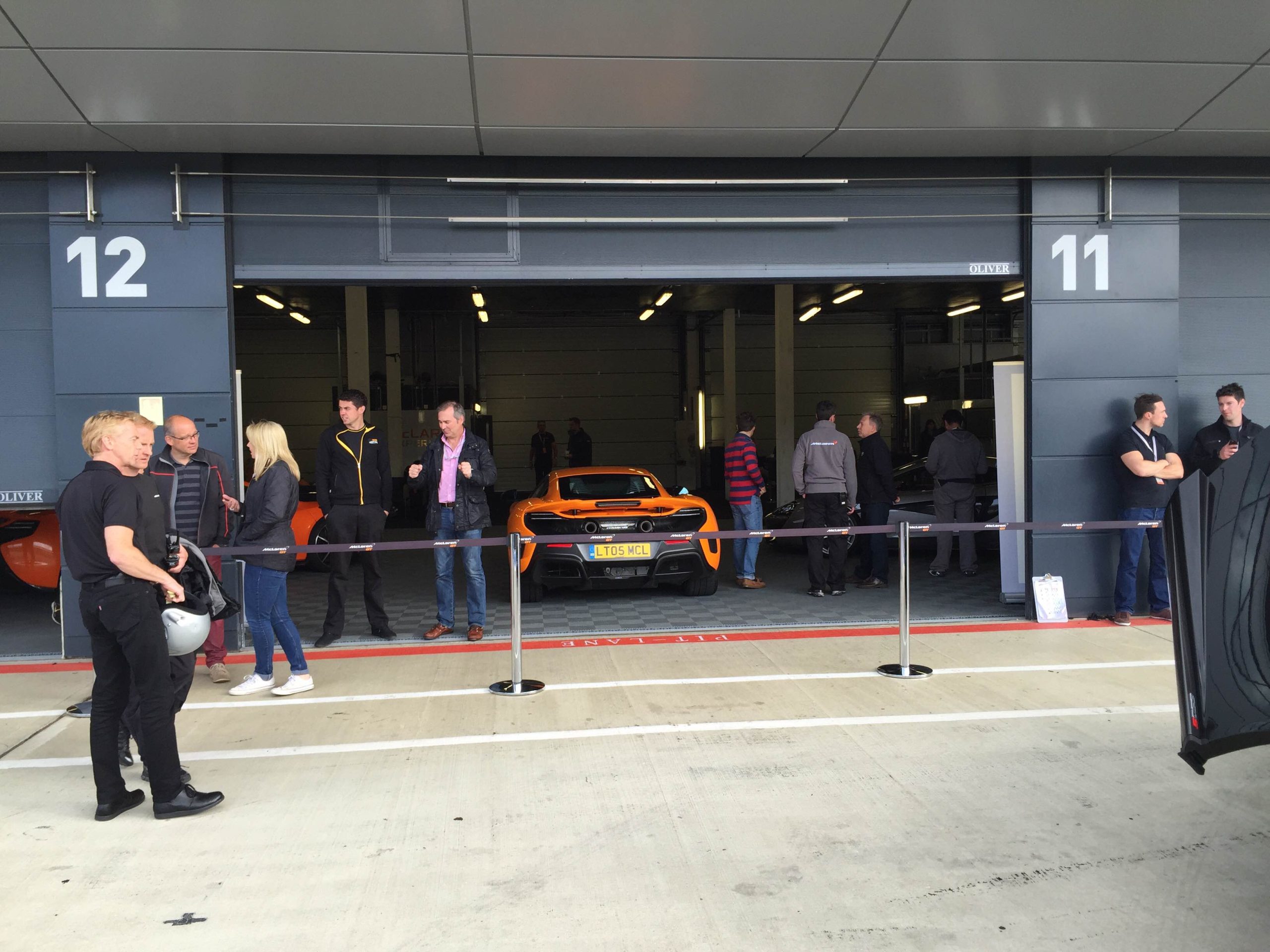 Pure Mclaren is their events operation, a dedicated team arranging and organising events for owners and prospects alike to either enjoy car related events or driving on track. There are a variety of events from track days to driver training and the last event for this year was a double header day at Silverstone where everything was on offer. Being an owner I just signed up for the track day and was joined on each day by around 15-20 other Mclaren owners as well as a few prospective owners, dealers, journalists and budding racing drivers.
As I said, I've done a few of these days but I've never seen a set up as professional as this one, set in the new Wing garages (which are cavernous so event GT teams look a bit lost in them) Mclaren had set up an impressive area for us all to call home for the two days. In one corner there was a data area for those on driver training days to go through their times and lines with the instructors, there was a couple of comfy seating areas and decent refreshments all day, was an impressive set up.
TO MY KNOWLEDGE NOT A SINGLE CAR HAD ANY ISSUES
However it was the extra things that made the difference, the P1 GTR was out doing demo laps, they had Bruno Senna doing passenger rides in the 675LT, they had an impressive array of instructors and even the new owner of one of the 2001 F1 cars having a play not the sort of things you typically expect from a track day. However for me is was a track day, ie drive our car on track and here I think they really set themselves apart, when we arrived we were greeted and directed to a separate garage where a team of Mclaren technicians took the car and gave them a full check over to make sure all was ok. At the end of each time on track you pulled into the same garage and they then checked the tyre pressures and addressed any issues you may have had out on track - that's impressive and I'm sure was instrumental in the fact to my knowledge not a single car (owners or factory) had any issues that prevented them going back on track - thats pretty good.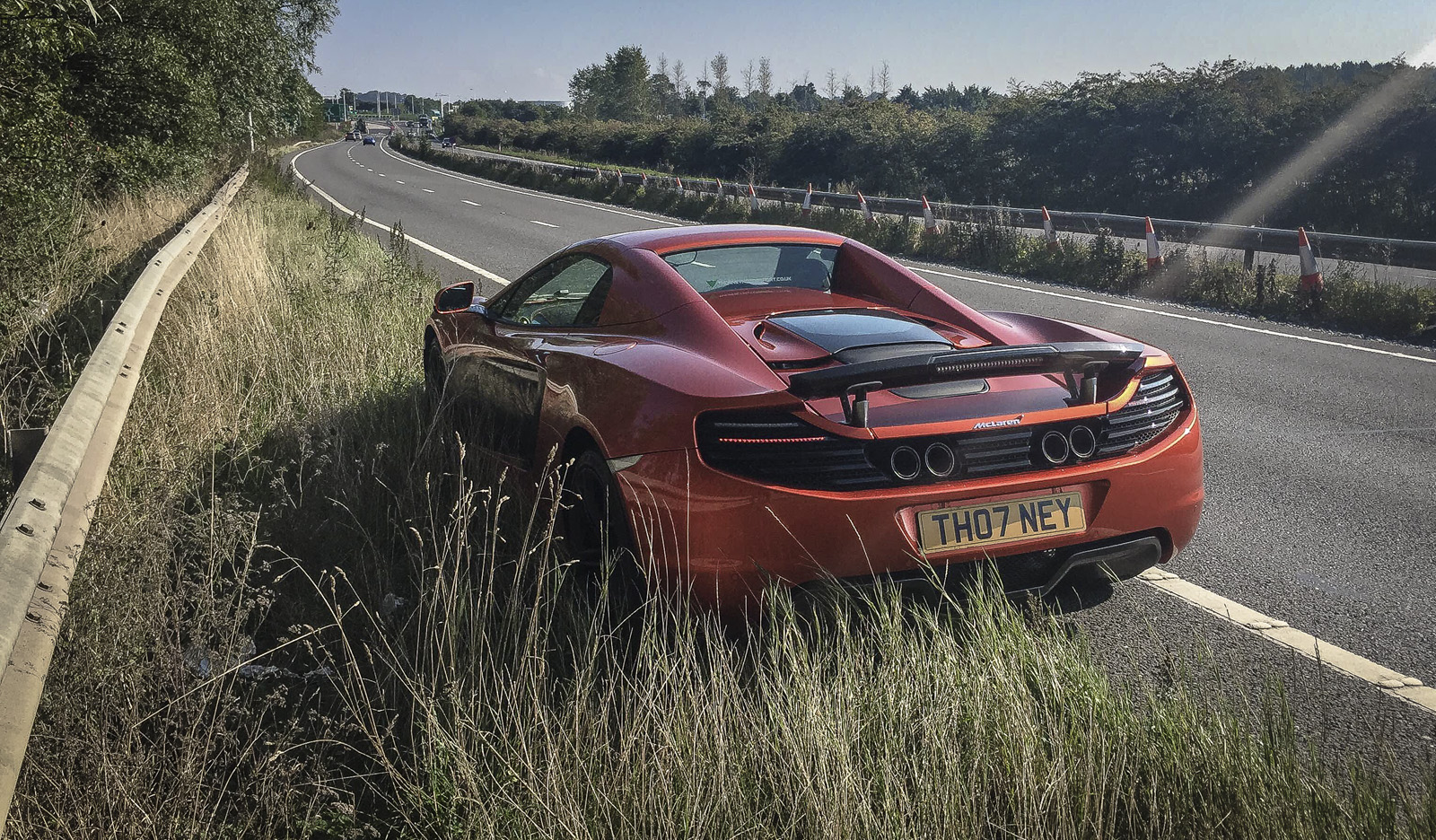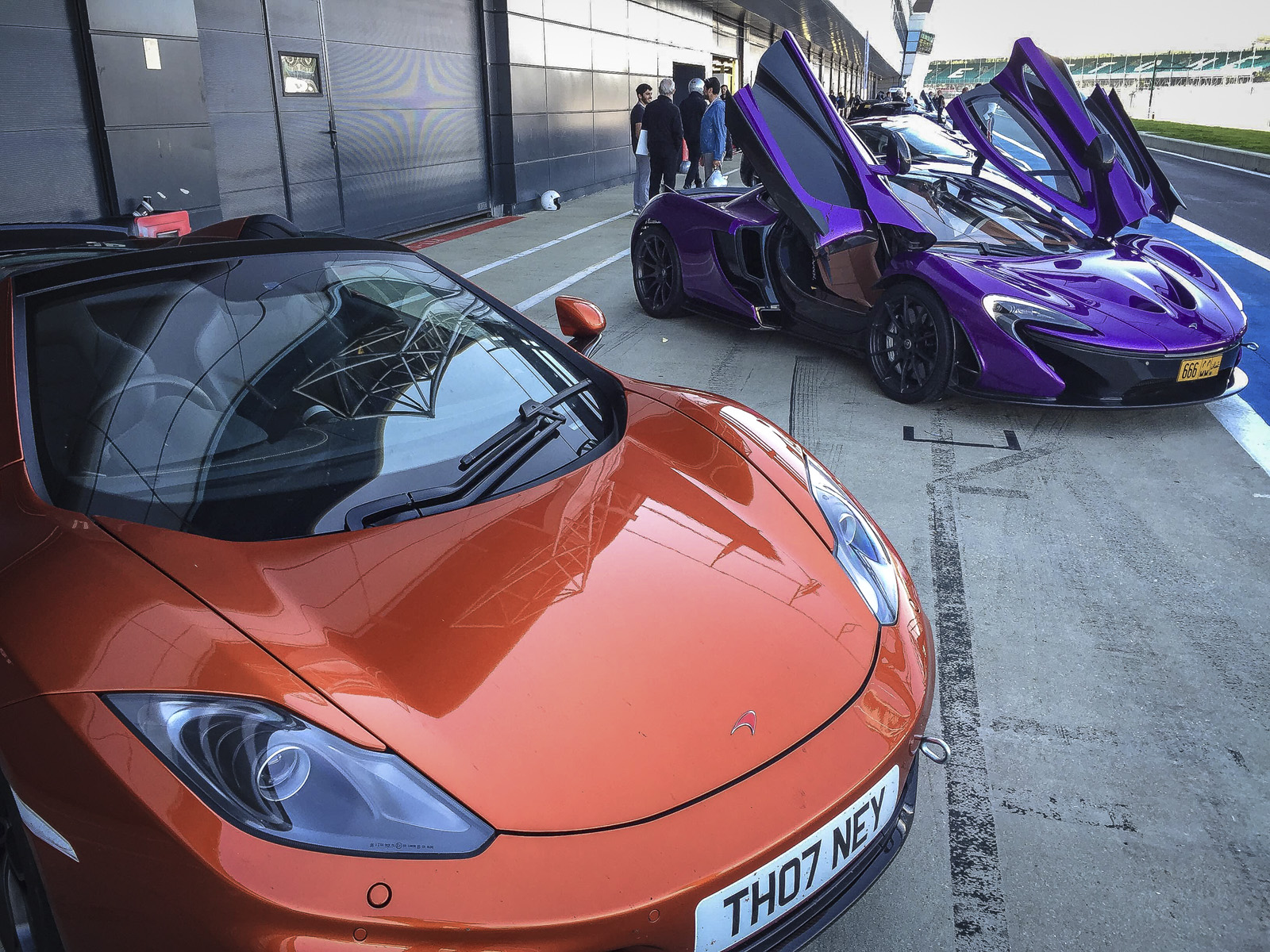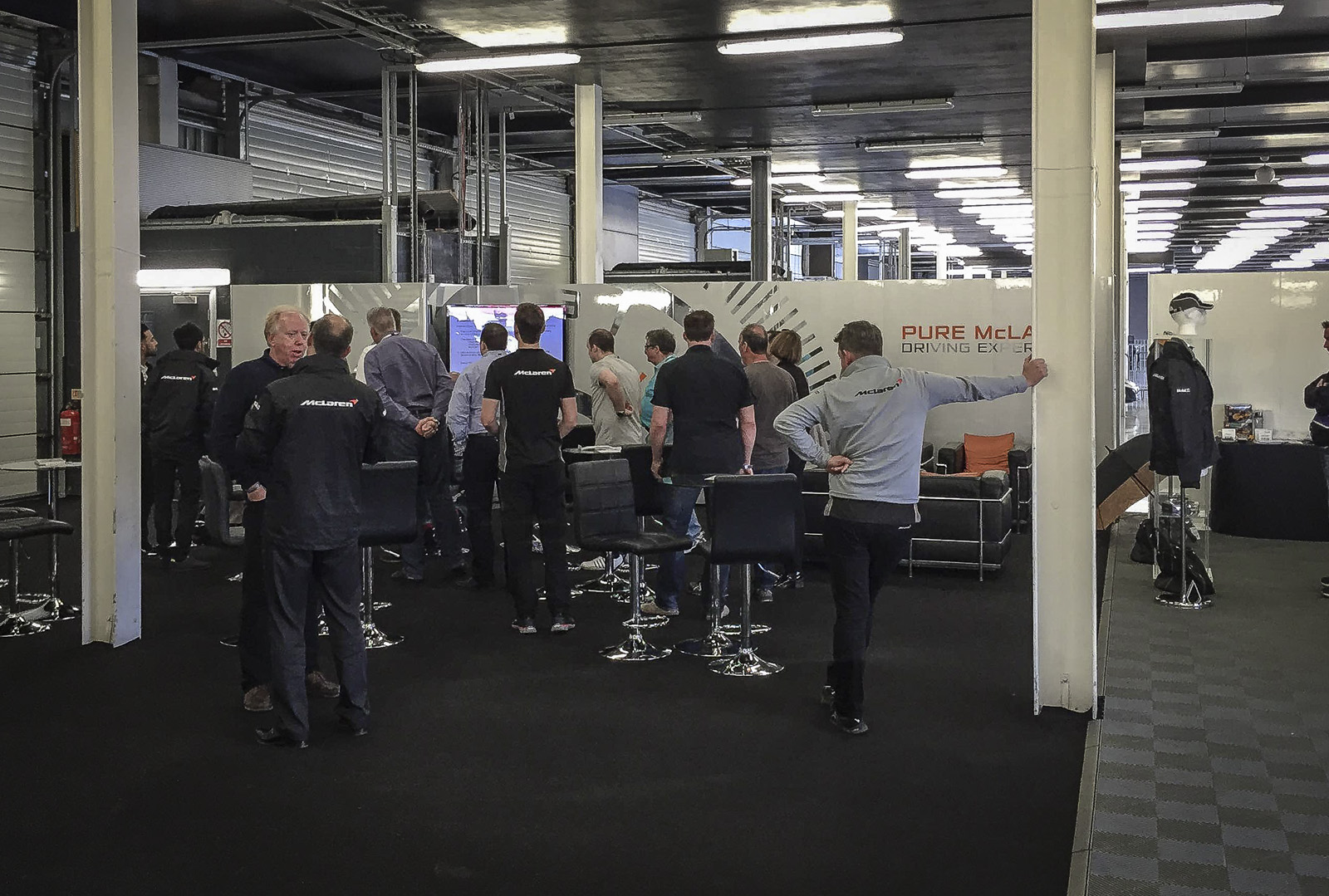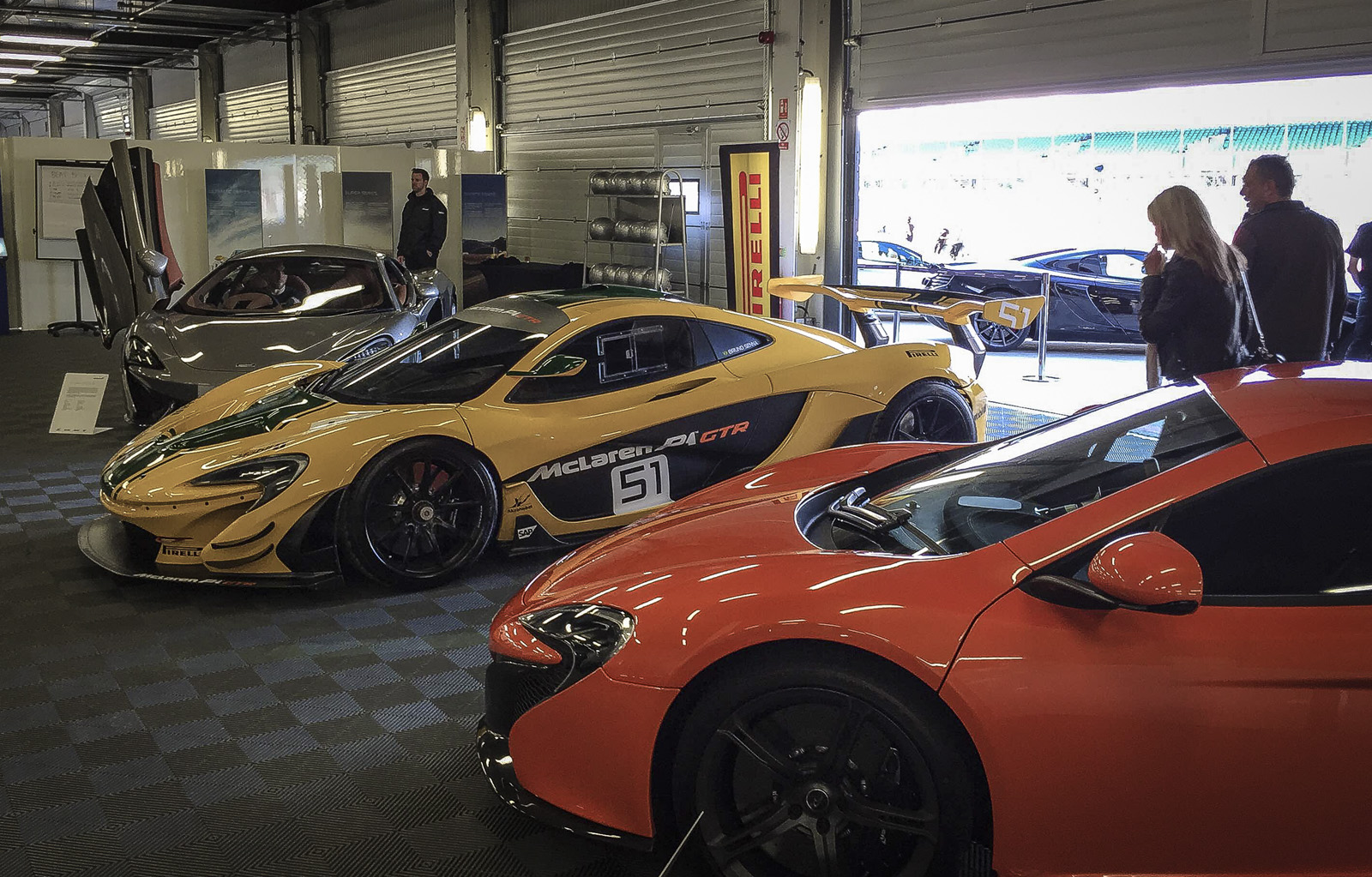 The track itself was the International layout which is a fair bit shorter than the full GP but still has the best bits of Stowe round to the new Wing so you get to stretch the cars legs as well as some of the better Silverstone turns to enjoy. I'd not driven the circuit for a few years, indeed the last time I was there I was testing a BTCC Insignia it was that long ago but I soon settled in and was enjoying myself. We decided to run the car in standard power but with just the sports exhaust fitted in quad pipe form to see how it measured in terms of noise and to see what owners thought of it and it all went very well, we even had a few people come up asking 'why that volcano orange car sounded so much better than the others' so that was good, nice to get things right. We ran in standard power primarily as I wanted to see if I still knew how to drive (its been a while!)
Well a few laps in and and it all clicked back into place, the car is so impressive on track that it really does make you re-think your view that roads cars do not make decent track cars, yes it rolled more than you'd like and road tyres soon overheat but it was fun enough to realise that you could have a whole day on track and not feel that you're missing out (which what most road cars feel like).
I'D DONE A 1/4 OF A TANK IN 7 LAPS.
I was determined just to treat the day as a fun day out but pretty soon my competitive side came out and on a cool down lap I spotted one of the new 675LT cars approaching so I let him past and set about seeing if I could chase him down. Well it took a lap or so but I finally got on his tail when mid way through the last corner the car suddenly lurches and up pings the warning 'low fuel' oops. I'd done a 1/4 of a tank in 7 laps. I pull into the garage and am advised that I really was empty so nurse it to the petrol station on site. Well that one didnt seem to want my credit card so I tried to see if I could make the nearest Shell station (I prefer to put V Power in the car when I'm on track) but within sight of the station the cars grinds to a halt - on the A43 - what a complete idiot. Fortunately our workshop is a couple of miles away so after they'd stopped laughing one of the guys came out with a fuel can and I was back on my way. However that wasnt before another Mclaren did a U turn to see if I was ok, bearing in mind there was no hard shoulder so not the nicest pace to stop to see if someone needs help so was a lovely gesture just to see if I was ok and needed any help. When I get back to the garage it turns out that the owner of that car was quite senior at Mclaren so it just goes to show that the guys at Mclaren really do care about their owners, certainly appreciated.
OVERALL A GREAT DAY, CAR PERFORMED FAULTLESSLY.
Back on track I was keen to see if can have another play with a 675LT again and after a little time playing with the P1 that was out there one emerged again, so I set about seeing if I could catch it. Well, it took a couple of laps but eventually got behind it and he was clearly enjoying himself as much as I was and didnt move over down Hanger Straight to let me past - enjoyed that, there is something rather fun about sitting behind a £300k car, three inches from his bumper at 160mph, after that I think discretion was the better part of valour and he moved over, no idea who was driving but whoever it was, thanks, that was fun.
Overall a great day, car performed faultlessly (despite me running it out of fuel), everyone who saw the exhausts and other upgrades we'd done seemed impressed and the Mclaren staff (high and low) again demonstrated a friendliness that belies their cold image. It has re-invigorated our desire to become an official Mclaren service centre which is something we've been discussing for some months.
As for the 675LT? Well if I had £300k odd I'd be there like a shot, the front end of the 650S always left me a little cold, I prefer the 12c nose but the 675 moves the whole game forward, really really impressive and despite being on track nearly all the time I didnt see a single mechanical issue from either of the demo cars (or anyone elses for that matter).
Respect to Mclaren for that.