By John Thorne – Mon, 20 Apr 2009 08:30
Well, the first race of the 2009 season is here and there's somany changes it's hard to keep up. Leyton has moved from class B to the Astrain Class A, so carries his number 1 plate to the top class. We have a newdriver, Abbie Eaton in the Corsa. Abbie was a very late entry to the team, latenight emails to and from Cornwall (I was on holiday) with her sponsors finallysorted a deal as late as the Wednesday before the race weekend, this wasn'teasy as we had to move the seat fitting 7 inches forward to get her into thecar – not an easy task with 24hrs to go before the race. Abbie (like Leyton)comes from the SaxMaxx Championship where she was a regular podium winner andfinished 4th last year only narrowly missing out on third due to alast round crash.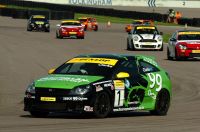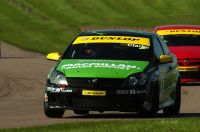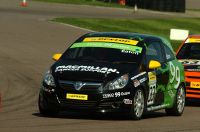 Dunlop Sportmaxx Championship regulations have changed a lotsince last season, technically the biggest change are the tyres. Gone are theSportMaxx road tyres, we now have Dunlop Direzza track day tyres. These arestill road legal but a World apart from the SportMaxx, offering a lot more gripin all but wettest conditions. Testing over the winter with Leyton in the Astrashowed the Astra 2-3 seconds faster on the new tyres so we were expecting theracing to be a lot more fun this year. Changes to the rules also allow us torun the up rated brakes for the Corsa so other than that the Corsa remainsunchanged (why change what isn't broken). The other major changes to theregulations are the adoption of BTCC races and success ballast. The grid forRace 1 is determined by qualifying, the grid for race 2 determined by result ofrace 1 and the grid for race 3 determined by lottery. Basically, its juniorBRCC as the series was designed to be.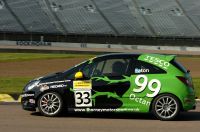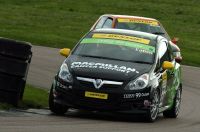 ]]>
Friday practice went well, we made some changes to both carssuspension set ups with the input from KW being invaluable again to take intoaccount the new tyres and both Abbie and Leyton appeared nicely on the pacestraight from the garage, this is especially impressive from Abbie, to jumpfrom a low power, low weight Saxo to a high torque, higher weight Corsa and beimmediately on the pace is impressive, we were very pleased.
Qualifying went pretty well, Wallbank got pole but Leytonwas third just 0.4 seconds off with Shaw putting a one lap special to snatchsecond place on the grid. Abbie was having power issues with the Corsa wherethe power would drop out so we just got her on the grid, the problem sorted vianew coil pack, plugs and sorting the wiring loom.
Race 1
Abbie did a stunning job, with no power issues to worryabout she quickly got past Holly's Clio and set about chasing down the SeatLeon of Peter Whinney, lap after lap she gained a little but just couldn't getclose enough to make a pass, the Seat was very quick on the straights. Howeverwith Peter being a guest driver it meant that Abbie secured her first win theclass, in her first ever drive of the car – you can't get better than that!
Leytons race was slightlymore problematic, a great start was lost when the lap came timer loose andLeyton had to loosen his straps to remove it, all a bit infuriating as we bothjust adjusted it before the car went out so we must have dislodged it somehow. Leytonrecovered brilliantly and secured a strong second place after a race long fightwith Shaws Seat and the other Astra VXR's, he got out of the car saying it wasthe best race of his life, great news.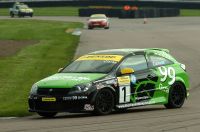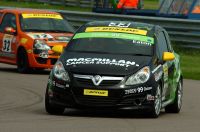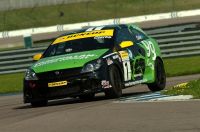 ]]>
Race 2
With grid positions set from the results of race 1 Leytonlined up behind Walbank and Abbie behind Whynnie and you could see that both ofthem wanted past. Both cars were carrying a hybrid version of ballast that wassorted due to lack of ballast plates. Leyton didn't get a great start andslipped back to 3rd but his pace was clearly evident and over thenext 4 laps he got past Wallbank and then on lap 6 got past Shaw in the Seat totake the first win of the season. Abbie spent the entire race snapping at theheels of Whynnies Seat which just out powered her on the straights but she wasclearly faster though all the midfield section, so drove a patient race but theSeat just was too powerful to get past. Again, as Whynnie is a guest driverthis meant Abbie picked up her second win of the weekend so Thorney Motorsportcars occupied the number 1 positions of class A and B (we really need to entera class C car to pick up the hat trick).
With grid positions set from a lottery of first 6 placesLeyton was 4th on the gird just behind Shaw, Abbie second behindWhynnie. Leyton got a better start and quickly set about pole man Allison inhis 888 Astra VXR and by the second lap was past, Allisons race got worse withcontact with team mate Wallbank (who was nursing a mechanical failure on his888 Astra VXR) which meant they both retired. Try as he might Leyton couldn'tgain enough ground of Shaw or Churchill in his VXR (partly due to the extraballast Leyton was carrying) so he settled for a strong third place. Abbiedrove the race of her weekend, literally over the bumper of Whynnie's Seat(also carry maximum ballast) eventually getting past with a brave move at thehairpin, from this point she slowly pulled away for win number 3 for theweekend.
Summary
Overall this couldn't be a better start in terms of results,Leyton now leads the championship by 2 clear points from Adrian Churchill inhis Astra VXR (which also runs a TMS map) and Abbie (in her first weekend inthe car) leads class B by a comfortable 17 point margin. Both the driversperformed brilliantly and we are delighted by both of their driving. Both thecars clearly showed their reliability and are clearly class leaders in thefield – we are very proud of them both.
As a team it was a very trying weekend for us, the paddockwas split with CSL Cup being in the outer paddock and the Sportmaxx being inthe garages and we struggled with being split up in such a manner (the two area quarter of a mile apart) but conversations with BARC have confirmed this willnot happen again I'm relieved to say. We also struggled with lack of set up aswe were let down at the last minute by one of our transporters not being readyin time so we had to run 6 cars from one awning – that's tough. Overall it wasone of the hardest weekends racing I have ever endured and the whole teamworked like true heroes to get the results we achieved. Both the Sportmaxx carsneed a bit of TLC to improve their looks (Astra now needs front and rearbumpers damaged in the racing to compliment the new side sills it alreadyrequired) and the Corsa needs a new bonnet as we simply didn't have time toapply the new livery ahead of the first race, seeing as of the Wednesday theCorsa wasn't actually racing we moved mountains to even get it out.
So taking account the logistical issues to finish theweekend with 4 wins, 3 fastest laps, leading the championship and our carsnever off the podium is an achievement I'm pretty proud of, we have the finest,most dedicated team of crew here we could possibly hope for. The fact we didthis with no transporter, being split between two places and only havingdrivers sign up a mere 48 hours before the race itself is again a testimony tothe sheer grit and determination we have to make this work, at the end of theday results count, I'd rather have a winning car that needed a bit of paintthan a pretty car retiring from a race, a few people need to remember that.
Brands Hatch will be a different show, we will have a fullcompliment of support in place and a new team manager to aid theadministrative/logistical areas not helped by being split in the paddock –something that BARC have assured us will not happen again, roll on the nextrace.
John
Thorney Motorsport on Facebook