SEMA is the Worlds largest specialist car show and 2022 did not disappoint with record numbers of both exhibitors and attendees, however our attendance was not to show off a car but to expand our Thorney Motorsport Independent McLaren Specialist dealer network.
In the last 9 years of working on McLarens we have had a consistent request from owners asking when we might be able to offer our services outside of the UK so when covid happened, when everyone else was on furlough making Tiktok videos we completed development of our dealer support system and launched our first 4 dealers – Munich in Germany, Hamilton in New Zealand and Boston and Scottsdale in the USA.
Attendance at the show was a rather last minute affair really, the workshop is booked until 2023 so there was no chance of taking any of the front line technical team so it was left to John, on his own, to take a small stand and just see how the market would respond. The USA is the largest Worldwide market for McLaren cars sold (UK is second) so we decided that if we wanted our dealer network to succeed it needed to gain traction in the USA so wanted to see what the response was.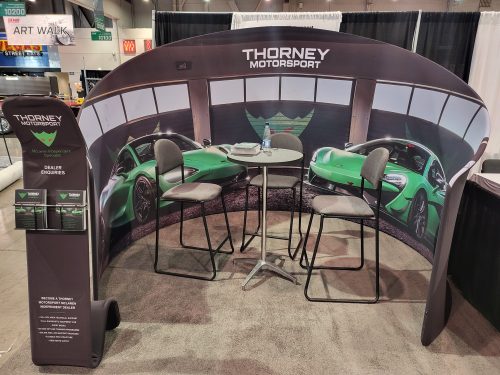 In short we were over whelmed, not just from owners sharing their stories (more of that later) and thanking us for the Youtube videos and advice but from potential new dealers wanting to become part of the Thorney Motorsport network, at the end of the 4 days we had 17 new dealer applications; Texas, South Carolina, North Carolina, New Jersey, Kansas, Florida, Wisconsin, Nebraska and even Puerto Cruz were amongst the areas with partners wanting to join.
Now we hope that this success is due to the hard work we have undertaken in the last decade to demonstrate that we are THE World leading experts in McLaren servicing and tuning but the over riding feeling is that our success is in part due to the failings that McLaren owners World wide face. The first of these is the sheer lack of McLaren official dealers for owners to use for maintenance or warranty work, John was regularly told of 8,9 and 10 hour journeys or $3000 transportation costs just for regular service work which in part makes the commercial success of becoming a Thorney Motorsport Independent McLaren Specialist a no brainer for most applicants.
The second reason is less palatable and really it comes down to one issue – the utter lack of customer care experienced by McLaren owners in the USA. John heard horror story after horror story from owners about the kind of service that has been experienced; one 675LT owner was quoted $27,000 to replace 4 accumulators as the dealer said the whole shock had to be replaced (it doesn't, its a $1500 job, not near $30k!) to the 12c owner who's car went in for a replacement windshield but came out with a broken engine, it was truly disappointing to hear.
As an operation we dont get involved in 'dealer bashing' there are good people working at all McLaren dealers and in our mind there is no such thing as a 'bad' dealer, just poor execution from time to time but after hearing so many stories it does make you a less surprised for the utter kicking McLaren tends to get in supercar owner circles and completely validates the commercial potential in becoming a Thorney Motorsport Independent McLaren specialist.
What was extra special was the number of McLaren owners coming up to the stand to thank us for our help, sometimes we fail to realise that that simple bit of advice or method to resolve a problem which is simple courtesy for us to share is of dramatic importance to owners. From the guy who was stuck outside his car in a New England snow storm and we walked him through how to get in and get the car started to the couple who had driven 1500 miles to a track day only to find their airbrake wont work, it seems our YouTube channel and willingness to help without expectation of financial reward is appreciated.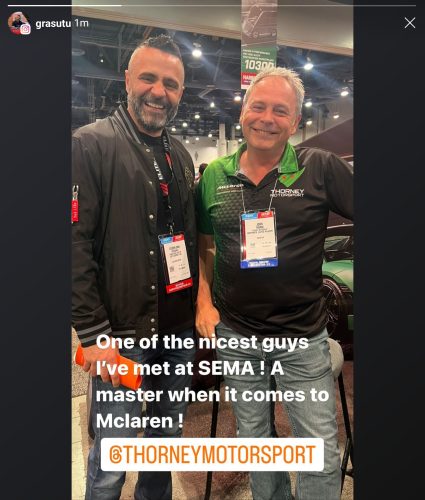 Favourite comment of the show, one we heard over and over again?
"If it wasn't for you I wouldn't have bought a McLaren, thank you"
Without us and the work we do there would be a lot less people in the World who might go their whole motoring life without experiencing the joy that only a McLaren can really offer.
So now we will get to work vetting the applications we have and arranging a new batch of partners to join our expanding network but also working a schedule to exhibit other shows around the World to meet with other potential dealers in other World markets. To answer the question "when are you coming to my (insert city/country?)" the answer is soon……..very soon.
Thank you everyone who has shown us such support over the last years to allow us to create this network, if you're interested in becoming a dealer or want your independent shop to benefit from the experience and skills we can offer all the details are here
We are looking for more, but you may have to get in line.
John