By John Thorne – Tue, 11 May 2010 08:30
Well, the 2010 race season is now fully upon us and frankly it landed on us like a ton of bricks. We did have the first Sportmaxx race a few weeks ago but with only Alex out in one Astra (where he got a 4th, 5th and 6th in his first time out) this was the first weekend where we were all out as a team. This year things are a little different, for a start we not ready to announce our new team sponsor until Oulton Park at the end of the month (for reasons that will be abundantly clear when it is announced) so we kept a low key (well, low key for us anyway) at Snetterton – plain black clothing, no logos save for an inkling of our new log and brand for Thorney Motorsport (more of that later).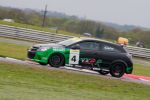 Stuart Clarke in his VXR-R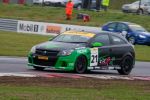 Alex Ashby in his VXR-R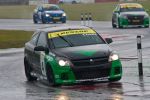 Stuart Clarke at Russell Bend, Snetterton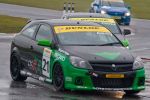 Alex Ashby at Russell Bend, Snetterton
In the CSL Cup we're delighted to be returning with Nick Foster and Mark Steward, last year these two shared a car, loved it so much that they wanted one each this year so Mark is back in his car from last year and Nick has taken over my old E46 CSL that I raced last season. Joining them this weekend was Dave Briault in the other E46 M3 and in one of our E36 M3 class cars. Finally there was me in our someone unfinished E92 GT3 car, the first one ever (almost) built in the UK. Sharing the garage this season are our two Astra VXR-R drivers, Stewart Clarke and Alex Ashby. Stewart drove for us last season in some races (winning at Donington Park) so we are delighted to have him back and Alex raced for us at Snetterton last season where in his first run out he was challenging for podiums so we're very happy to have him for the full season this year. I'm proud to have so many returning drivers from last year, does show that we're doing a good job I feel.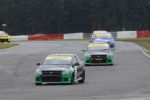 Clarke leading Ashby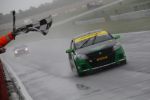 Alex taking 3rd, coping with brake trouble perfectly.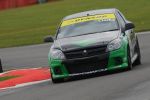 Stuart down at Russell Bend.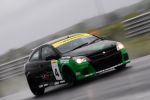 Stuart in the less than favourable conditions.
With the big announcement at the next race I'll keep the intro short for this report as the news for next race is far more interesting and I'll spend some time on our other sponsors then as well.
Alex's results at Rockingham were a bit of a disappointment if I'm honest, not due to him, he drove excellently in his first race but we were off the pace compared to Churchills Astra (well, everyone was, a 14 second lead at one point raised a few eyebrows in the paddock) so we need to make some changes, especially as our times the season before were faster. With changes to the regulations now allowing LSD's to be fitted and with revisions to our Nitron suspension settings following data from Rockingham we were confident that both Alex and Stuart would be near the front.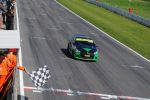 Stuart taking his first SportMaxx win of 2010.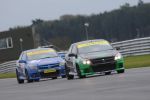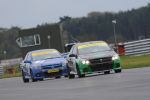 Stuart keeping a quick Ryan Bensley at bay.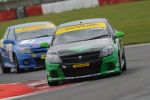 Alex fending off Bensley.
Qualifying went pretty well, Alex did well to get third just after Churchill and Bensley but Stuart struggled a bit in 7th with braking issues, still off the pace a little but nothing too dramatic, both drivers were still getting used to the cars with the LSD's now fitted and uprated suspension.
Race 1
Coming off pole Churchill quickly got a decent lead and held it for the race, Stewart had an excellent start from 7th and within a lap he was up to 4th chasing Bensley in his Astra VXR. Alex had a great start and slotted in behind Churchill. As the race progressed Stewart started to reel in Alex who was suffering from excess brake judder and after outbraking himself Stewart got past to claim second. Over the next 4/5 laps Stewart started to close down Churchill but with only a few laps remaining he had to settle for second. Alex bravely fought off Bensley to keep third place with practically no brakes by the end of the race, excellent driving from both, TMS got a second and third – excellent.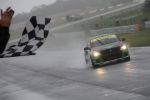 Stuart taking 2nd place in Race 1.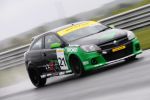 Alex in Race 1.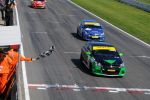 Alex taking his first win in 2010.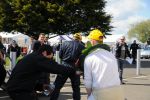 The standard 'drench the team' approach at the podium.
Race 2
A few changes were made to the cars set up and (and replacing a broken piston in one of the callipers on Alex's car which caused the braking issue he had) and the guys were ready to go. Churchill was on pole again but both Alex and Stewart were confident of taking the fight to him but as it happened they didn't need to, straight off the start Churchills cars blew a turbo and pulled off to the side of the circuit. With TMS 1st and 2nd we were delighted (we had a 1 – 2 last season so its nice to lock out the podium) but slowly Bensley started to reel in Alex who again was suffering from brake problems, Alex slipped to third on lap 6 and Bensley started to catch Stewart who was slowing. Turns our Stewarts car was suffering from a drive shaft failure but he managed to keep the car going to claim his first win of the season – well done Stewart. TMS first and third.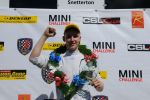 Alex on the top step.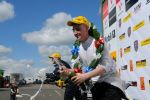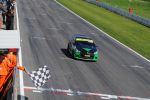 Stuart taking the win for the Team.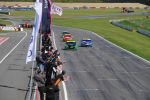 A well deserved win recognised by all on the pit wall.
Race 3
Final race of the weekend for Sportmaxx and the reverse grid structure had Alex in second and Stewart in 4th. This was by far the most exciting race of the three, the four Astra VXR's of Chruchill, Bensley, Alex and Stuart powering round the circuit with less than a second covering the four, Alex jumped into the lead from the grid and never lost the lead, with 3 other Astra VXR's in his mirrors he had to drive perfectly to let any of them through and did brilliantly to do just that – a lights to flag victory and his first ever win, well done Alex! Stuart had an exciting race as well, coping with the 45KG success ballast sitting in fourth behind Churchill he tried and tried to get past with some excellent car control regaining a very sideways moment on the entry to Russells but it wasn't to be and ended 4th. TMS first and fourth.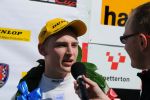 Quick TV appearance for the Great & British TV.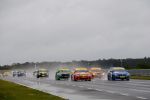 Wet start to Race 1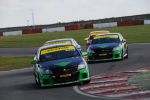 'VXR Cup' in full swing.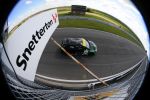 Summary
Overall we are delighted, the new Nitron suspension set up is light years ahead of our 2009 setup. It allows us much more adjustment and variability between the drivers and their set ups, they work perfectly with the new LSD's we are allowed to run. Stuart and Alex have immediately gelled with their cars and the team, its nice to have two drivers that work well together rather than at each others throats on track, they both want to win but not at the expense of each other, good team drivers. Last year when we had two cars in the 1, 2 positions they took each other off, this time whilst they fought on track there was never an issue of hot heads controlling things, thats great news for the team.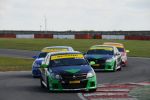 'VXR Cup'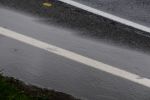 Conditions on Saturday were terrible.
Stuart leading the pack.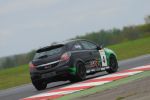 The Next Dunlop Great & British event is on May 29th-31st, with all the racing occuring on the Bank Holiday Monday – we'll see you there!
Thorney Motorsport on Facebook